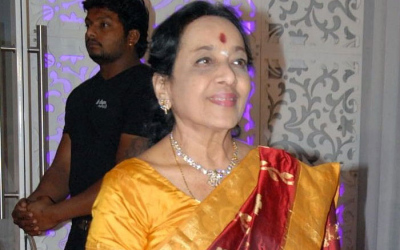 K. Jamuna Rani Profile
Learn more about K. Jamuna Rani
Jamuna Rani first sang in Sri Lankan cinema for Sujatha in 1953 under the direction of composer Ananda Samarakoon. She subsequently contributed to Warada Kageda (1954), Seda Sulang (1955), Mathalan (1955), Suraya (1957) and Vana Mohini (1958). 'Jeevana Mea Gamana Sansare' which she sang with A. M. Rajah for the movie 'Seda Sulang' is one of the all-time favourite Sinhala cinema songs in Sri Lanka.
Rani is the daughter of private officer K. Varadarajulu and violinist K. Droupathy.

She first contributed her voice to film at the age of seven for the Telugu movie Tyagayya (1946). By thirteen, Rani was vocalising for lead characters in films like Valayapathi and Kalyani. She had a hit score with Aasaiyum En Nesamumfrom the Tamil film Gulebakavali in 1955.

She was a much sought after playback singer in the 1950s till the 1960s. She had very few songs in the early 1970s. After a hiatus, she came back to Tamil songs in Nayakan (1987) and Annan Ennada Thambi Ennada (1992).
---