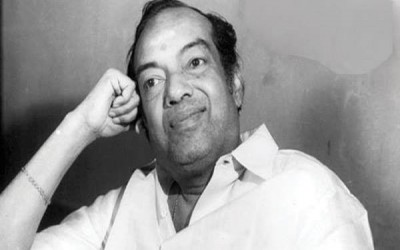 Kannadasan Profile
Learn more about Kannadasan
Kannadasan's greatest contribution to Tamil culture is his songwriting. Lyrics with simple words but having a philosophical message is his trademark style. Before Kannadasan, many lyricsists like Papanasam Shivam, Kambadasan, Vindhan, Maruthakasi, and Ku.Ma.Balasubramanian were sought after in Tamil music industry, but after Kannadasan the scene changed. He quickly became the most sought after, which he was till his death.

Kannadasan was so popular that though there were many excellent poets like Vaali, Pulamaipithan, Alangudi Somu, Avinasimani, Panchu Arunachalam and Jayakanthan during that period, their hits are wrongly considered by many of Kannadasan fans as songs written by him. Though, after his death, film lyrics have come a long way from Vairamuthu to Tamarai, many people still consider Kannadasan to be the best songwriter. New songs trend for some time and eventually fade away after a months or even days, but Kannadasan's songs are still popular in Tamil Nadu. He is considered to be the greatest modern Tamil poet after Subramanya Bharathi.

He was the producer of historic Tamil film "Sivagangai Seemai" portraying the pioneers of the Indian freedom struggle "Marudhu Pandaiars". The song "Santhupottu" in that film is popular even today.
---