தென்மேற்குப் பருவக்காற்று பாடல் வரிகள்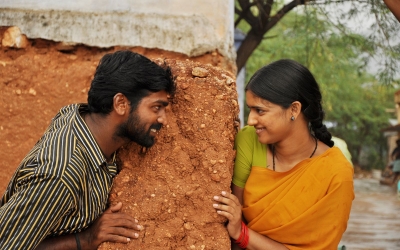 Movie Name
Thenmerku Paruvakaatru (2010)
Movie Name (in Tamil)
தென்மேற்குப் பருவக்காற்று
Starring
Saranya Ponvannan, Vijay Sethupathi, Vasundhra Chiyertra
Story
Set on the backdrop of Theni, the story is about Murugan (vijay) who is a goat shepherd and he has a loving mother Veerayi (saranya Ponvannan). She is a widow and struggles hard to raise Murugan and has an overflowing affection for him.

Meanwhile, there is a gang which attacks the villagers at night and steal their goats. Murugan along with his group manages to catch one of the members in an attack and discover that it is a girl.

Her name is Pechi (vasunthara) and her family steals goat for livelihood. While Murugan develops feelings for her, Pechi's family is known to be quite dangerous. Veerayi comes to know this and asked her son(Murugan) to marry a girl of her choice. He refuses to accept her wish. Complication arise between them.

A old lady of her house tells Veerayi to let her son marry the girl he loves. A possesive widow tells how her husband got killed to that old lady. Her husband got killed by a group of thieves.The head of the gang is none other than the Father of the girl whom her son loves.