கலகலப்பு பாடல் வரிகள்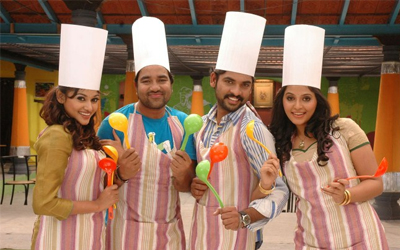 Movie Name
Kalakalappu (2012)
Movie Name (in Tamil)
கலகலப்பு
Starring
Vimal, Shiva, Anjali, Oviya, Santhanam
Story
The setting is Kumbakonam, where Seenu (Vimal), tries to keep the fire burning in the kitchen of his famous ancestral restaurant Masala Café. It is tough job for Seenu to keep the place running, but with the help of the old chef and grand-daughter, Maya (Oviya), he somehow manages it.

Seenu also borrows liberally from Anjuvatti Alagesan (Ilavarasu), and is in no position even to pay back his interest. Soon enough, there is Madhavi (Anjali), the new Health Inspector who wants the place to be sealed, but soon ends up falling in love with Seenu. Meanwhile, Seenu's brother Raghu (Shiva) a smooth talking con man enters the scene and creates more complications. He falls for Maya.

The brothers soon get entangled in a case of missing diamonds, the jewels dealer Manickam (Subbu Panchu), and a local corrupt cop Dharman (John Vijay). Madhavi soon reveals that her marriage has been forcibly arranged with her village-mate Vettupuli (Santhanam), and soon leaves for her village. But Seenu follows her, promising that he will help her escape. Dharman meanwhile cheats Raghu, and takes over the cafe while Seenu is away to Madhavi's village.

When Seenu is back, he comes to know about that incident and tries to arrange for the money. Meanwhile when Raghu arrives at their house, he sees Manickam and his henchmen who have kept Seenu and the constable under them. When, Raghu gives the phone which contains the diamonds, they try to kill all of them present there fearing that they'll complain to police. Dharmaraj soon arrives there in information of the diamonds. Vettupuli also arrives at the scene in search of Madhavi. After a comic fight between all these people, Manickam and his gang along with Dharmaraj are arrested. Finally, they resurrect their Masala Cafe.