ஸ்ட்ரீட் டான்ஸ்சர் பாடல் வரிகள்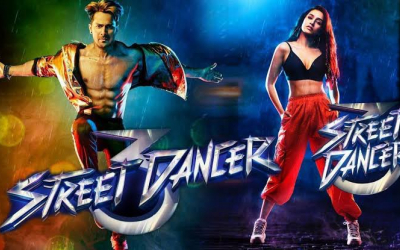 Movie Name
Street Dancer 3D (2020)
Movie Name (in Tamil)
ஸ்ட்ரீட் டான்ஸ்சர்
Starring
Varun Dhawan, Shraddha Kapoor, Prabhu Deva, Nora Fatehi
Story
nder Singh Narula (Punit Pathak) is a dancer who is part of a dance team named Street Dancer. Inder is dancing at the Ground Zero Battle with his brother Sahej Singh Narula (Varun Dhawan) cheering for him and while doing a flip stunt, he lands on his leg and injures it. After two years, he is healing, but cannot dance. Sahej forms Street Dancer again and converts it into a studio through money whose sources he is hesitant about revealing. Poddy (Raghav Juyal), is one of Sahej's close friends, along with D (Dharmesh Yelande) and Sushi (Sushant Pujari), who are all part of Street Dancer. While showing the dance studio to the Street Dancer team, they run into Inayat (Shraddha Kapoor) and her team, the Rule Breakers, dance as well. Sahej and Inayat have always been at standstills against each other and they have a dance battle. The Rule Breakers beat Street Dancer, embarrassing Sahej in the process. Inayat's cousin, Zain (Salman Yusuff Khan), takes her home. Their family is very orthodox and Inayat lies about her dancing, hiding the truth from them.

Sahej visits the Royals, an all time, record-holding dance group that always wins the Ground Zero Competition. His girlfriend, Mia (Nora Fatehi) is on the team, and she is an incredible dancer. They discuss on how irritated Sahej is by Inayat, and she calms him down. Mia trains the Street Dancer gang, giving them the spark they wanted. The two gangs meet up in a restaurant for a cricket match between India (Sahej's team) and Pakistan (Inayat's team). India wins and this leads to a dance battle where Mia shows her moves. The police and the restaurant manager, Ram Prasad a.k.a. Anna (Prabhu Deva) control the fight. As they leave, Inayat sees some homeless people entering the restaurant from the back door. She follows them and meets Ram. He explains to her that these are illegal immigrants, and he feeds them food that isn't used. He takes her to an area where many illegal immigrants reside. He tells her that they can't go back to their home as they have no money. She gets emotional and begins to help them.

One day when Poddy reaches the dance studio, he sees Sahej being interrogated by the cop. Sahej reveals that when he went to India for his cousin's marriage, he met Amrinder Mehrotra (Aparshakti Khurana) and his three other friends playing drum in the marriage. He was impressed by their talent. They request Sahej to take them to London which he denies. After they offer a huge amount of 40 lakhs he agrees to take them to London. That's how he got the money to buy the dance studio. Poddy promises to not tell it to anyone.

The Ground Zero Battle returns. Inder asks Sahej to participate and win it. Inayat decides to participate so that they can use the money to help the illegal immigrants and Ram supports her. The two gangs meet and Ram says that if they become one they can easily win the competition. But both of them deny the offer. Sahej impresses the Royals with his dance at a nightclub. He, D, Poddy and Sushi are selected for the Royals. The two gangs meet in the restaurant again. They have an argument, which ends up with Ram dancing, showcasing his ability to Sahej. Sahej, blinded by his ego, turns down the opportunity. Poddy is in a relationship with Alisha, a girl from Inayat's gang. He realises that Inayat's gang are participating in the Ground Zero Battle so that they can retrieve them the prize money which is a hundred thousand pounds to help illegal immigrants and tells Sahej about it at the Royals dance studio. Sahej does not believe Poddy and a fight ensues between the both of them. This causes Poddy to leave the Royals and he decides to join the Rule Breakers. Inayat accepts Poddy into the team and other members of the Street Dancer team also feel left out as Sahej spends his time with the Royals.

The first round of the competition is easily surpassed by both the Royals and the Rule Breakers. As Sahej, D and Shushi gets into a bus, they run into Amrinder. Amrinder tells Sahej that after he dropped them off, they went to a hostel. Over there, all illegal immigrants were staying and they were chased by the police. Leaving his identity as a Sikh and his passport, he and the three Punjabi drummers joined the homeless people. Inayat's gang were dancing to help them. He asks Sahej for help but he leaves saying he does not know him.

Both teams surpass the quarter finals and enter into semi finals. Later, the Royals and Sahej are walking in London. They run into the drummers where the leader of the Royals accidentally breaks his drums. After seeing them, Sahej feels guilty of his deeds. In the semi final round, Sahej leaves the Royals and helps Inayat's gang win the round. He then quits the Royals, breaking Mia's heart, and forms Street Dancer again.

Many practices occur, and then Inayat's family finds out about her dancing actions. They ban her from dancing, shocking the team. Sahej and Zain go to her house, and convince her family to let her dance. A relationship blossoms between Sahej and Inayat as they prepare for the final round of the Ground Zero Battle. The Royals perform and amazes the crowd. Street Dancer performs and in the middle of their dance, a member of the Royals take off the music. The host tells them that if there is no music, they cannot dance. Amrinder then uses his drums with his friends to make music for them to dance to. The leader of the Royals finds out that his team member took off the music and he asks to puts it back in, since he did not want to cheat. At the end of their dance, Sahej does the flip stunt, which got his brother injured, flawlessly. Making his brother and his country proud, Sahej gets Street Dancer to defeat the Royals and wins the competition, also earning the Royals' respect. In the end, Sahej and Inayat begin a friendship as they help the immigrants.