வாகை சூட வா பாடல் வரிகள்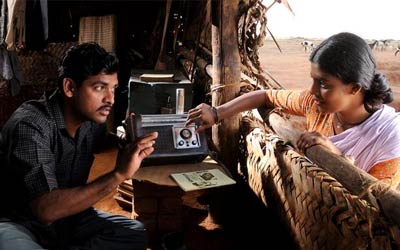 Movie Name
Vaagai Sooda Vaa (2011)
Movie Name (in Tamil)
வாகை சூட வா
Starring
Vimal, Iniya, Bhagyaraj, Ponvannan
Story
Veluthambi (Vimal), who is driven by the pride of having gained high education, wants nothing less than a government job. Due to compulsion, he finds himself in a village educating the children of people working in the brick kilns.As Velu reaches the village, he is greeted by innocent faces that fear that he would spoil children who are into work.

As time passes by, Veluthambi manages to convince the families to send their children to school. He is revered by the villagers as a godsend to lift them out of their miserable lives. In between, in the same village a girl, Madhi (Iniya) falls in love with him but he fails to recognise it.The local bigwig JP (Ponvannan) treats the whole village almost like his bonded labourers.

And he is irked by the new-found freedom that the villagers and their children seem to enjoy. He tries to threaten them but fails. Fate comes in the form of a government job for Veluthambi. But he feels the pinch of conscience to leave the children and walk away to a comfortable life. He returns to confess his love for the children and Madhi.