திருமணம் என்னும் நிக்காஹ் பாடல் வரிகள்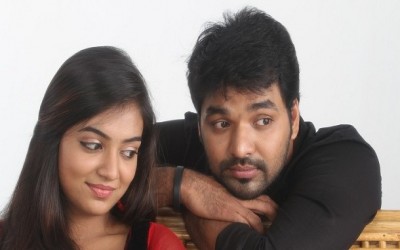 Movie Name
Thirumanam Enum Nikkah (2014)
Movie Name (in Tamil)
திருமணம் என்னும் நிக்காஹ்
Starring
Jai, Nazriya Nazim
Story
Ragava (Jai) and Vishnu Priya (Nazriya Nazim) are travelling in the train from Chennai to Coimbatore under the identities Abu Backer and Aayisha. Ragava acquires the identity of Abu as he gets a ticket reserved in that name and Priya acquires the identity of Aayisha as she is impersonating her Muslim friend for a project. Abu/Ragava helps her from a stalker and in course falls in love with her. She too develops feelings for him. Back in Chennai, they start to get to know each other. They assume that the other person is a Muslim. But soon Priya feels guilty and asks Ragava to keep away from her.

Saddened by this, Ragava meets a Unani doctor Showkhat Ali (Jamal) and learns about Islam just for the sake of Aayisha. Showkhat's daughter Naseema (Heebah Patel) falls in love with Ragava, assuming him to be Abu Backer. On the day of Ramzan, Priya confesses her love to Ragava and they start a relationship. Under certain circumstances, they both come to know about their true identities.

Though their family arrange their marriage, they feel that they had true love only for their Muslim counterparts. On the day of their marriage, they break up and move away. Meanwhile, Naseema comes to know about Ragava's marriage and her cousin Ashraff (Dinesh) plans for revenge. Ragava and Priya attend Priya's friend Aayisha's marriage and they feel that they still have love for each other.

As Ragava leaves the venue, Ashraff and his friends beat him up. Naseema stops them and confesses that only she had mistaken Ragava. Priya notices the brawl, realizes her love and hugs Ragava. Finally, they both get married.