சென்னை 600028 பாடல் வரிகள்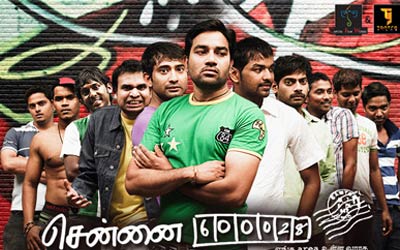 Movie Name
Chennai 600028 (2007)
Movie Name (in Tamil)
சென்னை 600028
Starring
Jai, Shiva, Nithin Sathya
Story
The story revolves around two small local cricket league teams that compete against each other in local matches and consider each other as sworn enemies. Royapuram Rockers are on top of the chain and keep bashing Sharks year after year. The heroes of the movie are the Sharks team.

The story begins when Raghu's parents move from Royapuram to Visalakshi Thottam, Chennai 600 028. Raghu, (member of the Royapuram Rockers Cricket team) and a college student living with his parents has no choice but to move with them although he detests the area. He is not very excited at the prospect of living in the same area as his sworn enemies. Raghu is faithful to his old team Rockers but his team mates ignore him because of the distance. Angered at being replaced by a new guy in the team in one of the matches, Raghu estranges himself from cricket and Rockers.

Raghu informs of Pazhani's sister Selvi's love for Karthick to him. This incident initiates the Raghu's friendship with a few Sharks team players and eventually gets induced into the team. Raghu practices with Sharks to play against Rockers in the upcoming Radio Mirchi trophy. Pazhani, who soon comes to know of his sister's and Karthick's love affair is disappointed and then there is a tiff amongst the friends. The team splits up for a while. But Karthick apologises to Pazhani and they make up. The team is united again and they start practicing for the trophy once again. Unfortunately, Karthick gets stabbed by his brother's enemies and is rendered unfit to play the match. Pazhani replaces Karthick as the captain and the team heads for the match.

Under tight pressure and with a nail biting finish Sharks finally defeat Rockers in the semi-finals of the tournament. Every bit of the cricket tournament portrayed here is done so in a very light and entertaining manner. It is far from boring. In the finals they meet their nemesis, a bunch of school kids named Bad Boys-II who practice by bunking school to play cricket on the beach. The kids are really good and the Sharks know it because they have lost to them once before and that too very badly...the movie ends with the team really struggling to keep it up in the game. All loose ends are tied up and the end is also funny and has a positive note. Badawa Gopi is the commentater.