மன்மதன் பாடல் வரிகள்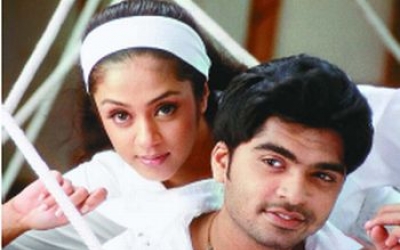 Movie Name
Manmadhan (2004)
Movie Name (in Tamil)
மன்மதன்
Starring
Silambarasan, Jyothika, Goundamani
Story
A violently depressed Madhan (Silambarasan) arrives at a hospital seeking psychiatric counselling. This proves to be a ruse, however, and he craftily seduces the psychiatrist (Mandira Bedi). Subsequently, he kills her.

Madhan Kumar is shown to be an accounts manager who also studies music. A shy college student Mythili (Jyothika) has a nightmare of Madhan (whom she has never met before) raping her, and fears him when she meets him in real life. Intrigued by her behaviour, he approaches and befriends her. She soon realizes that he is by all accounts a good person, and starts to love him. However, every night Madhan stalks various women who are morally corrupt, seduces and kills them. Every time he embraces a woman with the intent of seducing her, his nose begins to bleed (a characteristic trait). Police Assistant Commissioner Deva (Atul Kulkarni) is assigned to bring the serial killer to justice.

Mythili eventually discovers proof that Madhan is the killer and rapist and hands him over to the police. Held in police custody, Madhan reveals that the killer is actually his younger brother Madhan Raj (also Silambarasan). Madhanraj's motives are explained in a flashback:

Madhan Raj, a simple village youth arrives in Coimbatore to attend college, sharing a room with an irreverent student Bobby (Santhanam). He is approached by his classmate Vaishnavi (Sindhu Tolani) and soon starts to love her unconditionally. His love is fueled by his innocence and ethical values. The relationship progresses as far as a marriage proposal; however, a squabble starts as Madhanraj suspects an affair between Vaishnavi and her classmate Seenu. He arrives at Vaishnavi's house to ask her forgiveness. By chance, Madhanraj looks into her bedroom window and finds her sleeping with Seenu. He also overhears her saying that she never loved him, and merely accepted his proposal to divert his suspicion of her affair.

Heartbroken and revolted, Madhanraj confronts her, saying he knows the truth. When she denies it, he lashes out and accidentally kills her. Initially he grieves over his act, but realizes that she deserved it for cheating, and intentionally kills Seenu as well. He arrives at his brother Madhan Kumar's house and reveals his crime.

Madhan Kumar ends his flashback, and is released. Mythili apologizes for believing him to be a killer, and admits that she loves him deeply. However, the actual events that spurred the birth of Manmadhan are revealed (only to the audience):

After killing Vaishnavi and Seenu, Madhanraj was, in fact, remorseful and depressed over the events that led to this. He confesses to his brother and soon afterwards, locks himself in his room and prepares to commit suicide. Madhan Kumar watches horrified and helpless, as his younger brother hangs himself and loses his life. Madhan Kumar enters the room and embraces his brother's corpse, and suffers a nosebleed. He swears to avenge his brother's death by killing unfaithful women everywhere; thus it was Madhan Kumar himself who became Manmadhan. It is hinted that his exploits will continue as is shown in Goa when Suhasini Fernando (Sneha) professes her love to Madhan Kumar. As they embrace, Madhan's nose begins to bleed, indicating that Suhasini has become a victim of Manmadhan.