பருத்தி வீரன் பாடல் வரிகள்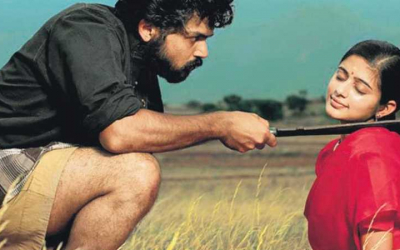 Movie Name
Paruthiveeran (2007)
Movie Name (in Tamil)
பருத்தி வீரன்
Starring
Karthi, Priyamani, Saravanan
Story
The story is set in a rural area around Madurai, in the village called Paruthiyur, which still practices caste segregation as a result of the controversial Criminal Tribes Act imposed by the British colonists, where members of impoverished communities are stereotyped as generational criminals.

Paruthiveeran (Karthi) is a country brash whose inter-caste parents were ostracized by the villagers since his higher caste father married his lower caste mother. After his parents' death, Paruthiveeran was mostly raised by his doting paternal uncle Chevvaazhai (Saravanan) who pampers and accompanies him in every misbehavior to keep him happy. Having grown up among his mother's people, he is often arrested for petty crimes. His one ambition in life is to gain enough notoriety to be on TV news and to be thrown into Madras Jail. He often bullies Paruthiyur villagers for money and fun.

Paruthiveeran's cross cousin Muththazhagu (Priyamani) is the daughter of his snobbish uncle who is a respected member of the village's council and a caste sectarian. Muththazhagu has been in love with Paruthiveeran since childhood, but he remains unmoved and keeps her at bay. When they were children, Paruthiveeran saved Muththazhagu from drowning in a well. She promised to marry him and be by his side forever and starts to love him against her parents' will as they do not approve of Parututhiveeran's inter-caste background. In order to delay her marriage with anybody else, she fails in her tests at school on purpose to be in the same grade class as Paruthiveeran. At times Paruthiveeran is violent towards her but she still loves him. When he finally accepts Muththazhagu's love for him and decides to marry her, the feud between the two families comes in the way.

Determined to marry Muththazhagu, he warns her against marrying anyone else by threatening to cut her into pieces. Undeterred by his threats, her parents press ahead with the preparations for her marriage with a boy of their choice. Since Muththazhagu is not able to convince her parents otherwise, she runs away from home in order to elope with Paruthiveeran. However, while hiding away in an abandoned building while Paruthiveeran is away making necessary arrangements, she comes across four of Paruthiveeran's acquaintances who mistake her for one of his prostitutes. They brutally gang rape her and leave her to die.

Later, Paruthiveeran returns and finds her dying. She beseeches Paruthiveeran to cut her into pieces as she does not want anybody to find her in her present state. Paruthiveeran, on her request, chops her corpse into pieces. While walking away in a neurotic state, he is found by Muththazhagu's father (Ponvannan) and her other relatives. Assuming him to be her kidnapper and killer, they beat him to death.