நினைத்தேன் வந்தாய் பாடல் வரிகள்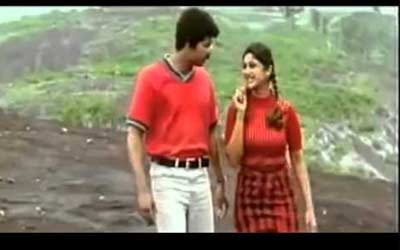 Movie Name
Ninaithen Vandhai (1998)
Movie Name (in Tamil)
நினைத்தேன் வந்தாய்
Starring
Vijay, Rambha, Devayani
Story
Gokulan Krishnan (Vijay) is a music loving man who begins the movie with a dream where he sees his dream girl. The only Trademark he remembers from it is a mole which is situated next to her navel(bellybutton). He then becomes determined in looking for his 'dream girl' with the help of his uncle (Mannivannan) and brother in laws. On the other hand, his father arranges him to get married to a village girl Savithri (Devayani) which Gokulan (often referred to as 'Mapillai') objects to, but Savithri loves him.

Gokulan later sees his dream girl Swapna (Rambha) at a wedding where he spot the mole on her navel. He then sings to her impressing her but she leaves abruptly. He later sees her at a music class which he teaches and from then on they love each other. Gokulan tries to stop the marriage with Savithri in many failed attempts due to everyone in Savithri's family getting the wrong impression. Swapna then arrives to Savithri's village and is revealed that they are sisters. Neither of them knew that they love the same man.

Gokulan then tells Savithri's father that he doesn't want the marriage which Swapna overhears. Knowing how much her sister loves him, Swapna is determined to get Gokulan to forget her by lying she has a blood clot in her heart. After much persuasion, Gokulan agrees to marry Savithri. Throughout the movie, Vignesh (Ranjith) is in love with Swapna and tries to get her to marry him and if not, he will kill her with him also. When Vignesh reveals after almost killing Savithri that he loved Swapna but she said she will only marry Gokulan, Savithri lets Swapna marry him.