வேட்டைக்காரன் பாடல் வரிகள்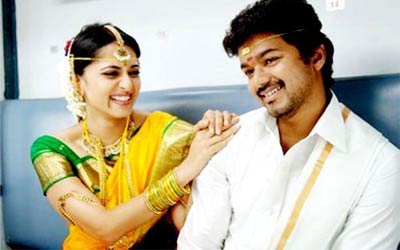 Movie Name
Vettaikaaran (2009)
Movie Name (in Tamil)
வேட்டைக்காரன்
Starring
Vijay, Anushka, Shetty Srihari
Story
Ravi /(Radhe Hindi) (Vijay lives in Tuticorin. He aspires to become a policeman like his idol, Police Officer Devaraj IPS (Srihari). After completing his 12th standard(Plus 2), he joins a college in Chennai, and also earns a living by driving an auto rickshaw. During the course, he meets Suseela (Anushka Shetty in and falls in love with her instantly. With the help of her grandmother, he succeeds in winning Suseela's heart.

Soon, Ravi comes across a local thug, Chella (Ravi Shankar), who tries to play spoilsport in the life of his classmate Uma (Sanchita Padukone). Ravi comes to her defense and defeats Chella, hospitalizing him. His troubles start as Chella's father, a criminal don named Vedanayakam (Salim Ghouse), with the help of a corrupt police officer Kattabomman (Sayaji Shinde), begins to create havoc in Ravi's life. Ravi himself is thrown in jail on a false case and is expelled from college. Only Suseela is willing to actively help him. As Ravi turns to his mentor Devaraj for help, he shockingly learns that Devaraj's family has died at the hands of Vedanayakam and that Devaraj himself has been blinded by Vedanayagam and is helpless. It is at this stage that Ravi takes up a new persona called "Police" Ravi to clean up the illegal activities of Vedanayagam and instill hope in the public, something that Devaraj was unable to do.

In the process, however, Vedanayagam kills Ravi's close friend Sugu (Sathyan), prompting Ravi to kill Chella in retribution. Vedanayagam decides soon after to become a minister, knowing that it is the only way to put a stop to Ravi's activities. As Ravi finally plans to kill Vedanayagam, knowing the danger of him becoming a minister, the police arrive to arrest Ravi. However, Ravi sees Devaraj in the crowd and announces Vedanayagam's location to him just as he is being arrested, allowing Devaraj to shoot and kill Vedanayagam, effectively taking his revenge.

In the end, Devaraj is reinstated into the police force and agrees to make Ravi a police officer. However, Ravi states that he does not need to become one, for he has found the police officer within himself and that is all he needs to succeed in life. The film ends as Ravi happily leaves with Suseela and his friends.