வேலாயுதம் பாடல் வரிகள்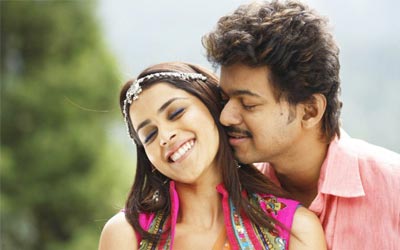 Movie Name
Velayutham (2011)
Movie Name (in Tamil)
வேலாயுதம்
Starring
Vijay, Genelia D'Souza, Hansika Motwani
Story
The film opens up in Pakistan with a blindfolded person (Vineet Kumar) being dragged by a few terrorists. He is brought to the leader of the gang Musafir Ibrahim (Abhimanyu Singh) and is identified as Ulaganathan, the Home Minister of Tamil Nadu. Further plans are revealed when the gang strikes a hefty deal with him for planting a series of bombs in Chennai. Then happens a bomb explosion at a transportation bus in the city killing many innocent peoples. A group of three journalists, including Bharathi (Genelia D'Souza), commit to eradicating terrorism in the country after completing their Journalism course.

One night, Bharathi and her two friends secretly film the illegal activities like creation of explosives and women trafficking happening in a secluded house. However, the journalists' presence is detected and their escape attempt results in the deaths of both her friends and injury to Bharathi. But after the attack on Bharathi and her friends, the goon's vehicle explode due to a small mishap when a matchstick falls over petrol packets stored in the vehicle. Bharathi, already stabbed by one of the goons, comes up with a new idea to eradicate terrorism by creating a fictional character called Velayudham, and writes a note that he wants to clean up the city of bad guys and that he will stop the next bomb from hurting anyone before falling unconscious.

Velayudham a.k.a. Velu (Vijay) is a milk vendor in a village called Pavunoor. He has a sister named Kaveri (Saranya Mohan) whom he loves dearly and a cousin Vaidehi (Hansika Motwani) who is crazy about him. Though the brother and sister duo create lot of trouble for the villagers, they are still adored by them. They, along with a couple of village friends, arrive in Chennai to collect money from a chit fund for his sister's marriage, and somehow a petty thief Speedu (Santhanam) gets part of their money. On chasing Speedu in the Egmore railway station, Velu uses a bike to catch him, and it explodes a few seconds later (a bomb had been planted on the bike). Within the next couple of days he inadvertently prevents more bomb blasts and helps catch terrorists, thus Velayudham becomes a sensation over time. He even manages to save Bharathi in one of the incidents which he never meant for it to happen.

Velu is unaware of the consequences, later Bharathi realises Velu is the guy who has been accidentally doing the work of Velayudham. Bharathi meets him, explains and asks him to become the fictional character, however he refuses. Later Velu goes to draw cash from the chit fund but the company cheats him off his money and the people who are cheated vow that Velayudham will come as their saviour. Velu seeing this decides to take upon the avatar of Velayudham and starts to do eradicate the evils that pertains within the society such as corruption, prostitution, terrorism etc. In time, Bharathi falls in love with Velu, which he does not return as he is in love with Vaidehi.

Trouble however lurks in the form of Musafir. He plans a terrorist attack on a chemical factory. However, Velu thwarts these plans and gains the support of Assistant Commissioner Feroz Khan (Sayaji Shinde), who was initially sceptical of Velayudham.
Soon, Velu, Speedu and Bharathi come to Pavunoor for Kaveri's marriage. Unknown to them, one of the terrorists involved in the failed terrorist attack on the chemical factory had followed them to the village to take revenge on Velu. Feroz Khan tries to warn Velu about this, but is murdered by the police commissioner, who is Ulaganathan's right hand man. The terrorist plants a bomb in Velu's house and only Kaveri detects it, but the bomb explodes before she can get rid of it, killing her. In revenge, Velu returns to Chennai and kills Musafir, who is to be revealed as Velayudham by Ulaganathan, in a gruelling encounter at the Nehru Stadium, exposes Ulaganathan's misdeeds and finally reveals himself as Velayudham to the world.