தார்பார் பாடல் வரிகள்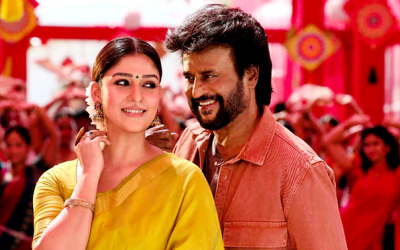 Movie Name (in Tamil)
தார்பார்
Starring
Rajinikanth, Sunil Shetty, Nayanthara
Music
Anirudh Ravichander
Story
The film opens with Aadithya Arunachalam, Commissioner of Mumbai Police killing gangsters in Mumbai using encounters.

In a flashback, Aadithya arrives in Mumbai with his only daughter Valli to become Commissioner of Police. He cleans up drugs and trafficking using the situation of the kidnapped minister's daughter as a catalyst. During the mission, he comes to know about drug supplier Ajay Malhotra, son of industrialist Vinod Malhotra and apprehends him.

When Aadithya goes to prison to meet Ajay, he is shocked to see that a proxy is in prison and not Ajay. Aadithya asks Indian government commission to investigate this and the corrupt officials declare the proxy is Ajay and there was no error. Aadithya comes to know that Ajay is in Thailand and gets Thai police to arrest him along with his fake passport. Since govt already declared Ajay is in jail they are forced to declare the person in Thailand as different person. Aadithya uses this loophole and shoots Ajay's proxy in jail and announces that his body will be shown to public. This forces corrupt officials to actually kill Ajay to save face and replace original Ajay's body instead of the proxy killed by Aadithya. At Ajay's funeral Vinod Malhotra reveals that Ajay is not his child. Ajay is the real son of Hari Chopra, a notorious International drug lord.

Hari comes to know of his son's death and enters India and kills Vinod. He also attacks unsuspecting Aadithya and his daughter. While Aadithya survives, his daughter dies of internal bleeding, causing Aadithya to turn extremely violent and begin his rampage of slaying criminals mercilessly.

Aadithya wants revenge but Vinod is already dead. He sees the clip Valli recorded for him before she died and learns there is a third person behind all this.

Aadithya comes to know about that Hariharan "Hari" Chopra & his link to Vinod & Ajay. Aadithya manages to kill Hariharan Chopra in the same police station which was set ablaze by him 27 years ago that killed many police officers, thus avenging his daughter's death and instilling peace in Mumbai.