விஸ்வாசம் பாடல் வரிகள்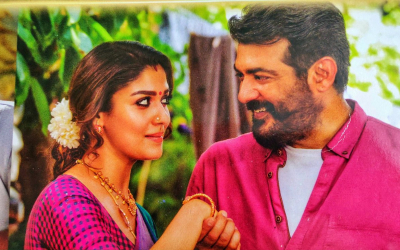 Movie Name
Viswasam (2019)
Movie Name (in Tamil)
விஸ்வாசம்
Starring
Ajith Kumar, Nayanthara
Story
Thooku Durai (Ajith Kumar) is a well-respected chieftain of his village Koduvilaarpatti of Theni district. After 10 years, a thiruvizha (festival) is set to occur at the village's Ayyanar temple, when Thooku Durai's rival (O. A. K. Sundar) tries to stop the thiruvizha from occurring. The thiruvizha occurs, thanks to Thooku Durai's intervention; however, his aunts (Kalairani and Sujatha Sivakumar) and grandmother (Cheeniamma) have been longing to see his wife and child. After much deliberation, Thooku Durai decides to go to Mumbai to meet them.

On the journey, Merit (Robo Shankar) and Rosamani (Thambi Ramaiah) are upset over Thooku Durai's current life and remind him of his life 10-12 years ago; Thooku Durai used to be a happy-go-lucky man and rice mill owner, and was also a Good Samaritan, albeit using violent ways to deal with problems. When chasing a few goons, he stumbles across Niranjana (Nayanthara), a doctor, who witnesses his antics and lodges a case against him. When Thooku Durai sees Nirajana, he is immediately smitten by her and surrenders to the police, out of the love he has for her, but she is later forced to release him after Aavudaiyappan (Mime Gopi) threatens to close her medical camp unless she pays him. After fighting the goons, Thooku Durai relocates her camp to his rice mill. Niranjana realizes her love for Thooku Durai and proposes to him, which he gladly accepts. They get married and lead a happy life, but Niranjana is disturbed by Thooku Durai's involvement into feuds. Soon, she gets pregnant and is accepted to go to one of the finest pharmaceutical programs in the country, which she refuses for Thooku Durai. After their child, Swetha, is born, one day, Niranjana leaves out of town, after getting a promise from Thooku Durai not to bring Swetha to any fights, and on the way to pick her up, Aavudaiyappan, waiting for revenge, picks up a fight with Thooku Durai. Thooku Durai, not finding Niranjana at the train station, finds her at home, and Swetha passes out as she had been injured during the fight. After rushing to the emergency ward, she survives, but Niranjana gets infuriated at Thooku Durai and tells him to stay away from her and Swetha and leaves him.

Back to the present day, Thooku Durai tries to meet up with Niranjana at her company, Niranjana Pharmaceuticals, to no avail. He later sees his daughter Swetha (Anikha), who is in contention for the Junior National 100m title. Swetha travels home, when attempts are made to kidnap and kill her. Thooku Durai arrives at the nick of time to save her. It is then revealed that Gautham Veer (Jagapathi Babu) is the one behind this as his daughter had attempted suicide due to Swetha intimating of her doping in races to the authorities. After saving her, Niranjana appoints Thooku Durai as Swetha's bodyguard for the next 10 days, until her competition, on condition that he does not reveal any information about him being her father, to which he happily accepts. He enjoys being in the company of his daughter, whilst saving her from goons on multiple occasions. Thooku Durai later meets Gautham face-to-face and challenges him. Thooku Durai is run over a car before Swetha's competition and is critical. Swetha then is forced to leave for America, and Thooku Durai recovers. Swetha also brings Gautham's daughter and mother. Before the competition, Gautham fights an already injured Thooku Durai, at which point Niranjana reveals that Thooku Durai is Swetha's father. Swetha lags behind during the meet as she has no encouragement. Thooku Durai fights Gautham back, reaches the track, and encourages his daughter by whistling, and Swetha wins the race. After seeing what Swetha has done for her daughter's recovery, Gautham realizes his mistake and leaves, but not before saying that Thooku Durai had opened his eyes. Swetha is announced as the winner, and Niranjana reunites with Thooku Durai.