கண்டுகொண்டேன் கண்டுகொண்டேன் பாடல் வரிகள்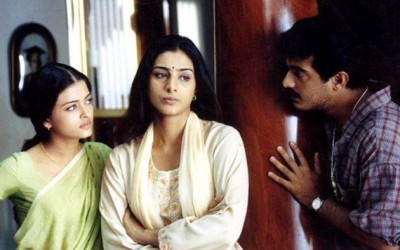 Movie Name
Kandukondain Kandukondain (2000)
Movie Name (in Tamil)
கண்டுகொண்டேன் கண்டுகொண்டேன்
Starring
Mammootty, Ajith Kumar, Aishwarya Rai, Abbas, Tabu
Story
Kandukondain Kandukondain opens with army commando Major Bala (Mammootty) fighting in a war and losing his left leg in a grenade explosion. After the opening credits, Sowmya (Tabu) and Meenakshi "Meenu" (Aishwarya Rai) are shown as the adult daughters of Pathma (Srividya) living in a Chettiar mansion in Karaikudi, Tamil Nadu with their maternal grandfather Chandrasekhar (Unnikrishan Nambooripad), maidservant Chellatha (S. N. Lakshmi) and younger sister Kamala (Shamili). Sowmya is a school principal while Meenu is passionate about classic Tamil poetry, music and dance. Major Bala, one of the rich men in their village falls in love with Meenu, but Meenu falls in love with Srikanth (Abbas). Manohar (Ajith Kumar) is a director who comes to Meenu's house for a film shoot. Sowmya and Manohar fall for each other but an issue crops up between the two and whether Manohar manages to win her back forms the rest of their part of the story.

Chandrasekhar, on his deathbed, tries to say something about the will which was written by him and kept in a box, a long time ago. No one understands him. After his death, their lawyer breaks open the box and found out that he had bequeathed all his property to his younger son Swaminathan (Nizhagal Ravi), remembering the fact that his elder daughter Pathma had eloped and married without his knowledge. Unable to bear Swaminathan's wife's arrogant behaviour upon inheriting the mansion, Sowmya and her family move to Chennai.

In Chennai, Sowmya finds a respectable job in a software company while Meenu becomes a playback singer with the help of Major Bala. Meanwhile, Srikanth's finance company goes bankrupt and he has to pay back his investors. A minister offers to bail out Srikanth and his company if Srikanth marries his daughter. Srikanth agrees and when Meenu finds this out by chance, she is shocked and overwhelmed at Srikanth's hypocrisy. She falls into an open manhole and gets rescued by Bala. Realising Bala's true love for her, Meenu falls in love with him.

Manohar's first movie project is in disarray and he is thrown out. He plans his own movie, a path-breaking action one with Nandhini Varma (Pooja Batra) as the heroine. Nandhini falls for Manohar's charm although not with any serious intentions. Rumours of an affair spread which hurt Sowmya deeply. The movie becomes a big commercial success. When he visits Sowmya's house in Chennai, he finds out that Sowmya is going to California. Tearful exchanges of resentment are exchanged between them as Manohar tries to convince Sowmya after some tearful drama. The movie ends with Manohar marrying Sowmya and Bala marrying Meenakshi.