நம்ம வீட்டுப் பிள்ளை பாடல் வரிகள்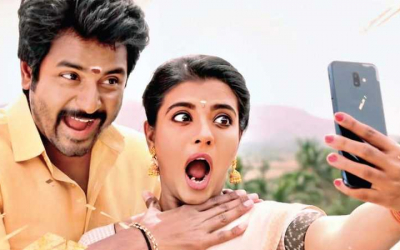 Movie Name
Namma Veettu Pillai (2019)
Movie Name (in Tamil)
நம்ம வீட்டுப் பிள்ளை
Starring
Sivakarthikeyan, Aishwarya Rajesh, Anu Emmanuel
Story
Arumpon (Sivakarthikeyan) is a village youth who loves his adopted sister Thulasi (Aishwarya Rajesh) dearly. Thulasi was the daughter of Dharma (R. K. Suresh), a close friend of Arumpon's late father Chandrabose (Samuthirakani), who adopted Thulasi after Dharma's death. Arumpon and his family are neglected by his paternal uncles, who show no affection for Arumpon or his mother and consider Thulasi as a curse on their family. Arumpon's uncles even speak ill of Arumpon and Thulasi to the families of any prospective grooms for Thulasi, as a result of which Thulasi is unable to get married. The only family members who show affection for Arumpon and Thulasi are Arumpon's grandfather Arulmozhi (Bharathiraja), who is the local medical practitioner, and Arumpon's cousins Paramu (Soori) and Maangani (Anu Emmanuel), who is romantically involved with Arumpon, despite her father's (Shanmugarajan) opposition to their relationship.

Arumpon and Paramu have a running feud with Ayyanar (Natarajan Subramaniam), a local goon who along with his uncle (Aadukalam Naren) run various illegal businesses. When Arumpon and Paramu shut down Ayyanar's liquor shop and do not allow his real estate company to build flats on illegally-acquired farm land, Ayyanar decides to marry Thulasi in revenge with the hope of separating and creating a rift between Arumpon and Thulasi. Arumpon, on his mother's and Thulasi's insistence, reluctantly agrees to the marriage.

While Ayyanar and Thulasi love each other, their marriage is strained due to Ayyanar's hatred for Arumpon. Thulasi soon finds out that Ayyanar is hoarding liquor illegally, even after his liquor shop was shut down. When confronted by Thulasi, Ayyanar assaults her. In retribution, Arumpon mercilessly thrashes Ayyanar, only stopping short of killing him as he is Thulasi's husband. Following this incident, Ayyanar fights with his close friend Maari over a petty issue and during the course of the fight, he accidentally kills Maari with a beer bottle. Maari's supporters attempt to kill Ayyanar in revenge, but Arumpon and Thulasi manage to rescue him and lodge him in prison for his crime, prompting Maari's supporters to target Arumpon instead. They drag Arumpon, his mother and Thulasi to the panchayat and even attempt to attack Arumpon in front of the entire panchayat. Arumpon subdues his attackers and explains his actions, and this along with intervention from Maari's widow, who tells the villagers to spare Arumpon and his family, calms everyone down.

In a scene during the credits, Arumpon, Thulasi and Arumpon's mother and grandfather have reconciled with the rest of his paternal family. Arumpon and Ayyanar, who has been released from prison, are on good terms, while Arumpon's relationship with Maangani is accepted by the latter's father as well. They are all happily attending Thulasi's Seemantham.