ரெமோ பாடல் வரிகள்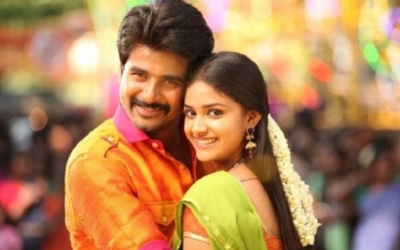 Movie Name (in Tamil)
ரெமோ
Starring
Sivakarthikeyan, Keerthy Suresh
Music
Anirudh Ravichander
Story
Siva (Sivakarthikeyan) is a theatre actor whose only aim is to become a superstar like Rajinikanth. However, his lack of acting skills hinders his path to the dream, and is even rejected by director K. S. Ravikumar during the audition for his new film Avvai Shanmugi 2. He comes across Kavya (Keerthy Suresh), who is a doctor, and instantly falls in love with her. He goes to her house to propose his love, only to find out that she is engaged to a NRI doctor Vishwanathan alias Vishwa (Anson Paul). Siva, though distraught, decides to woo Kavya anyway and somehow break her engagement with Vishwa. He disguises himself as a nurse, going by the name of "Remo" (short for "Regina Motwani", a combination of the names of actresses Regina Cassandra and Hansika Motwani), and takes up a job in the same hospital where Kavya works.
Ensuring that Kavya never finds out his true identity, Siva as Remo establishes a close friendship with her, but is unable to convince her to end her engagement with Vishwa. Undeterred, he organises a massive surprise on her birthday and proposes to her as Siva. Kavya, who has been charmed by the surprise and fallen in love with Siva, is in a dilemma as she is unable to decide between Vishwa and Siva. Siva takes advantage of her dilemma and juggles the roles of both Siva as well as Remo with the aim of breaking her engagement, all the while hiding his dual identity from her. Eventually, Kavya gives in and admits her feelings to Siva, but, to the shock of both her and Siva, Vishwa has decided to prepone their marriage to the very next day. Kavya decides to end her engagement and leave her house to be with Siva. While Kavya pours out her feelings to Siva (who is disguised as Remo), Vishwa arrives with some goons to forcibly take her away. Siva, still in his Remo guise, thrashes Vishwa and his goons, but at the same moment, he is forced to rush to hospital to attend to a terminally-ill orphan Nancy (Baby Raksha), with whom he had established a close bond. On Nancy's cajoling (Siva as Remo has earlier promised her that he would "change himself" to a man as a "magic trick"), Siva removes his Remo disguise, exposing his identity to Kavya. Betrayed and hurt, Kavya berates Siva for cheating her and ending her engagement and warns him never to go behind her again. Despite Siva's repeated pleas, Kavya refuses to budge and Siva sadly walks away.
A few months later, an old man sits next to Kavya in a bus. Kavya tells her latest problem to him: Siva is still attracted to her and constantly calls her, despite her having changed her number 46 times. However, she also adds that she still loves Siva and is only avoiding him as she wants to punish him for cheating her earlier. At this juncture, she accidentally finds out that the old man is none other than Siva in disguise. After scolding Siva for cheating her yet again, she softens and asks him to marry her the next day, to which he agrees.
The film ends with Siva finally achieving his dream: acting along with his best friend Vallikanth (Sathish) in a movie which seems to be his life story named Remo Nee Kadhalan, directed by K. S. Ravikumar, in which actress Sri Divya plays the role of Kavya as Dr. Divya.