சாமி 2 பாடல் வரிகள்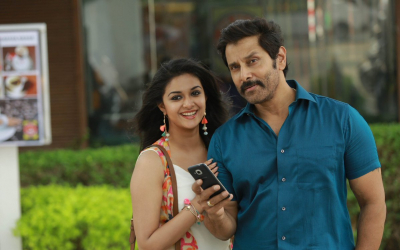 Movie Name
Saamy 2 (2018)
Movie Name (in Tamil)
சாமி 2
Starring
Vikram, Prabhu, Keerthy Suresh, Aishwarya Rajesh, Bobby Simha
Story
DCP Aarusaamy (Vikram), who had been transferred out of Tirunelveli after finishing off Perumal Pichai leads a happy life with his now-pregnant wife Bhuvana (Aishwarya Rajesh) in Dindigul, who intends to pursue IAS. However, in Tirunelveli, Perumal Pichai's men, who were discussing what happened to him, assume that he might be in Colombo with his second wife (Sudha Chandran) and three sons: Mahendra Pichai (O. A. K. Sundar), the eldest; Devendra Pichai (John Vijay), the second-eldest; and Raavana Pichai (Bobby Simha), the youngest. In Colombo, Raavana, after consulting his mother regarding his father's whereabouts, leaves for Tirunelveli and finds out that Saamy killed his father. Raavana begins to hunt down men who turned approver against his father and takes back his father's mantle. Saamy applies for a transfer to Tirunelveli to stop Raavana, which is approved.

After 28 years, where Ramsaamy (Vikram) lives in New Delhi, working as a front office manager for Union Minister G. Viswanathan (Prabhu). He is post-doc in Law and intends to pursue IAS as per the wishes of his grandparents (Delhi Ganesh and Sumitra), who have raised him in a Brahminical and non-violent manner so that he does not end up as a police officer like his father. One day, Ram meets Viswanathan's daughter Diya (Keerthy Suresh), who has returned from London after completing her studies and who constantly disagrees with him.

Later, when Raavana asks Viswanathan for the pending commission amount to be paid for transferring the party fund secretly, he simply replies to ask the party directly and not him. Irritated, Raavana kidnaps Diya for immediate settlement of payment. Ram rescues her from Raavana's goons and drops her home. She is impressed by his diplomatic nature and falls in love with him. Soon after, Ram accidentally happens to seize a van containing black money being transferred by Raavana on a commission basis. He hands the money over to the President of India without revealing his identity, which once again frustrates Raavana. Diya constantly proposes to Ram, which he rejects initially but gives in later.

Ram succeeds in the UPSC exam and leaves for Mussoorie for one-year training. After his return, his grandparents are shell shocked to see that he has opted for IPS and that he has been posted as probationary ACP in Tirunelveli. When Ram asks the reason for their reaction, his grandfather tells the truth that in fact, his father Aarusaamy has been a DCP in Tirunelveli. Ram's grandfather begins to explain what happened 28 years ago. When Saamy and Bhuvana were on their way to Tirunelveli, they were hacked to death by the Pichai brothers to avenge their father's death. Before dying, Saamy manages to open his dead wife's uterus and prematurely deliver his child (Ram). Bhuvana's parents take Ram and escape to Delhi, while the rest of their family is killed by a truck accident planned by Raavana.

Agitated by hearing his tragic past, Ram decides to go Tirunelveli and get justice for his parents' death. Ram's grandparents accept his decision, and he leaves for Tirunelveli and decides to take on the Pichai brothers. He initially warns Raavana and vows to bring the Pichai brothers before the law for killing his parents. Ram later razes Perumal's statue, which had been illegally placed at an intersection by Raavana and caused a lot of traffic problems. A cat-and-mouse game ensues between Ram and Raavana, with both of them trying to get rid of each other. Per the president's orders Sammy is transferred to Tirunelveli and by this Raavan gets surprised as they were not able to make transfer elsewhere. Meanwhile, Viswanathan initially disapproves of Ram and Diya's love, but he later accepts it.

Ram kills Devendra and Mahendra after an accident caused by them in Devendra's cracker factory to prevent Ram from seizing illegal extortion money of Raavana, which kills many innocent workers, as well as pregnant women.

Raavana's goons start to kill people of Tirunelveli in revenge. Viswanathan makes a decision to resign from politics for embarrassment faced. In mean while, Raavana's henchmen orchestrate a train accident which kills Viswanathan.

Later, Raavana absconds to Colombo with his mother's advice.

Ram finds out that Raavana is planning to go to Pakistan via Gujarat and Rajasthan,he tracks him down. After a tiresome fight with desert bandits and Raavana, Ram subdues Raavana but decides to leave him to his fate in the middle of the Thar Desert with no man, town, village, or water source for several hundreds of kilometres.

As the credits roll, Ram lies to the media that Raavana had left to Sri Lanka due to fear of being killed. There is a record of Raavana, going to Sri Lanka, but there is no record of coming back to India. Whereas, Raavana dies after 17 days in the desert. Soon, Ram and Diya marry. The movie ends with the message "Saamy's adventure will continue".