சச்சின் பாடல் வரிகள்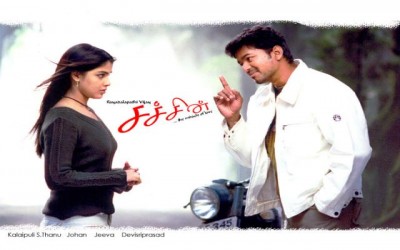 Movie Name
Sachein (2005)
Movie Name (in Tamil)
சச்சின்
Starring
Vijay,Genelia D'Souza, Bipasha Basu
Story
Sachein (Vijay) is a carefree and happy go lucky guy college student, who comes across the beautiful Shalini (Genelia D'Souza) on college campus and falls deeply in love with her but she doesn't love him. Arnold aka Ayyasamy (Vadivelu) has repeated the same class every year for nine consecutive years. He claims this is because he wants to be grateful to his teachers and Santhanam (Santhanam). Also, Arnold and Santhanam love Shalini. Shaliini doesn't take kindly to Sachein's smitten behaviour. Sachein is able to befriend Shalini through persistence. Shalini grows fond of Sachein. Santhanam, jealous of Sachein's relationship with Shalini, writes a graffiti on the school wall.

The graffiti reads "Sachein loves Shalini". Shalini confronts Sachein, and demands an explanation. Sachein pleads his innocence, and Shalini believes him. However, Sachein tells Shalini that even though he didn't write the graffiti, he really does love Shalini. Shalini bashes Sachein, telling him that he does not know the true meaning of love, and tells him she does not love him. The next day, Sachein meets Shalini and tells her that she will fall for him. Shalini takes on Sachein's bet and gives him a total of one month to try and make her fall in love. Shalini though is a good friend of Sachein until Manju (Bipasha Basu) runs behind Sachein with skimpy costumes and makes Shalini go green with envy. Here one scene flower blowing scene is copied from 40 Days and 40 Nights movie.

Shalini's parents have arranged her wedding with an industrialist's son in Canada, yet Sachein pushes on. Days pass, and yet Sachein is not able to presuade Shalini. On the last day of their bet, Sachein decides to bid goodbye to Shalini and even apologies for running behind her so long. Shalini develops a soft corner for Sachein and decides to express her love to him until his dad (Raghuvaran) who is a multi millionaire comes to meet him. Shalini doesn't express her love because then he will think that she loves him only for the money. Sachein plans on leaving India, and goes to the airport. When Sachein was about to take the plane home Shalini expresses her love to him and they are united.