ஈஸ்வரன் பாடல் வரிகள்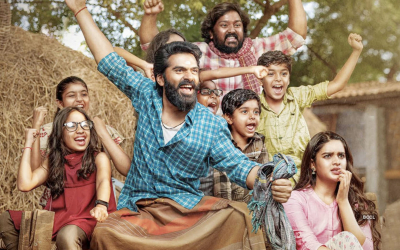 Movie Name
Eeswaran (2021)
Movie Name (in Tamil)
ஈஸ்வரன்
Starring
Silambarasan, Bharathiraja, Nidhi Aggarwal, Nandita Swetha
Story
The movie begins a long time ago in Palani, where Periyasamy(Manoj Bharathiraja) is a farmer who leads a simple and happy life with his wife Paapathi(Vinodhini Vaidyanathan) and children. One day, the family astrologer Kaali(Kaali Venkat) visits them and makes accurate predictions about their past and future. Periyasamy's world turns upside down the very same day, because just like Kaali had predicted, Paapathi has a freak accident in the house and dies from her injuries. Years go by, Periyasamy's children get married and move to Chennai for their livelihood leaving him alone in the village. He eagerly awaits for his children and grandchildren's visits from time to time.

In comes a young man Eeswaran, who joins as house help/ foster son for Periyasamy. Eeswaran is street smart, wise and runs from pillar to post to get things done, all the while establishing connections with many VIP's in the state. Periyasamy's children visit the village with their families for Paapathi's 25th death anniversary. At this time, the entire country goes into lockdown due to the COVID-19 Pandemic. Periyasamy is overjoyed at the idea of spending more time with his grandkids and calls astrologer Kaali, who predicts that there would certainly be a death in the next few days, leaving them worried about contracting the coronavirus and dying from the complications. So, the whole family takes the PCR tests and fortunately, the results come back as negative. However, the doctor calls Eeswaran about Diya, Periyasamy's 13 year old granddaughter and diagnoses her with a hole in her heart. Unbeknownst to the family, Eeswaran arranges for an open heart surgery for Diya, in an attempt to keep them calm till the day of the surgery.

Meanwhile, Eeswaran's married ex-girlfriend Vasuki(Nandita Swetha), who happens to be one of Periyasamy's granddaughters, also comes to stay with them in the lockdown and this causes tension between the two. Poongodi(Nidhhi Agerwal), Vasuki's younger sister falls in love with Eeswaran, but he doesn't reciprocate her feelings because he doesn't want to leave Periyasamy and the village and it was the very reason he broke up with Vasuki too. It is at this time that Periyasamy confesses to Eeswaran about how he lost the one true love of his life, Parvathi(Sri Durga). He says that he got married to Paapathi after his break up, but Parvathi came back in his life again and he had no choice but to marry her as his second wife and they had a son. Things got out of hand when Paapathi came to know of this other woman. As a result, Parvathi takes her son and leaves, Periyasamy doesn't know about their whereabouts till today. He urges Eeswaran to accept Poongodi's love and lead a happy life, Eeswaran obliges.

Periyasamy's daughter and son-in-law Maragadhamani's(Munishkanth) business always incurs losses and he ends up getting loans from his wife's brothers and fails to repay them. While this often results in family feuds, Maragadhamani resorts to asking Periyasamy to sell the family owned land and help him in his business, to which Periyasamy vehemently refuses. So, Maragadhamani plans to kill Periyasamy in order to usurp the family property. He sends in poisonous snakes into Periyasamy's farm, but Eeswaran comes to know of this plan and saves the family, but gets bitten. Knowing that it was Maragadhamani's plan, he thrashes him, but his family throws him out citing that he is just an outsider. Seeing the commotion, Diya faints and the whole family tries to rush her to the hospital for an emergency surgery. But they are stopped by Rathnaswamy(Stun Siva), Periyasamy's arch nemesis who was just released from jail. Eeswaran saves the family once again despite the snake poison affecting his body. Finally, he defeats Rathnaswamy and his men and rushes to see Diya, where he collapses and is taken for emergency treatment for the snake bite. Amidst all the confusion, Sonamuthu(Yaar Kannan), a close aide of Periyasamy and Kutty Puli(Bala Saravanan), Eeswaran's friend, tell that Eeswaran is none other than Periyasamy and Parvathi's son Aadhisivan and the truth was hidden as a last wish from Parvathi before she died. Periyasamy and the whole family are overwhelmed hearing this and rush in to see him. Eeswaran recovers from the snake bite and Diya's surgery also is successful and the whole family is happily reunited.

Eeswaran gets married to Poongodi, he solves Maragadhamani's loan problems and asks him to do proper money management from now onwards. He gets a call that informs him about the demise of the astrologer Kaali, indicating that Kaali's predictions have come true in some form, indeed.