கனிமொழி பாடல் வரிகள்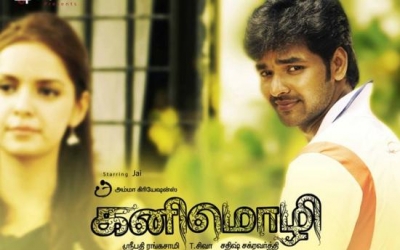 Movie Name
Kanimozhi (2010)
Movie Name (in Tamil)
கனிமொழி
Starring
Jai, Shazahn Padamsee
Music
Satish Chakravarthy
Story
Kanimozhi is a 2010 Indian Tamil-language musical romance film. Directed and written by Sripathi Rangasamy and jointly produced by T. Siva and Sona Heiden, it stars Jai and Shazahn Padamsee in the lead roles. The film features music composed by Satish Chakravarthy, cinematography by Chidamparam and editing done by duo Praveen K. L. and N. B. Srikanth.

The film is based on the philosophy that dreams will be fulfilled, presenting Jai as having a fetish for writing a diary, while changing things that go wrong in his life to have a happy ending. He comes across a pretty girl, played by Shazahn Padamsee, who he is intimidated by and cannot build up the courage to tell her his true feelings. Meanwhile, Vijay Vasanth also takes a liking to her and uses a different method to convey his feelings. Whom the girl falls for forms the crux of the story.

The film was launched in March 2010 and shot in 46 days, being completed in August 2010. Following the release of Enthiran and post-production works, the film was delayed by three months and released on November 26, 2010. The film was subsequently panned by critics and became a failure at the box-office. However, later in 2012 the film was dubbed in Telugu as Love Journey.