நேரம் பாடல் வரிகள்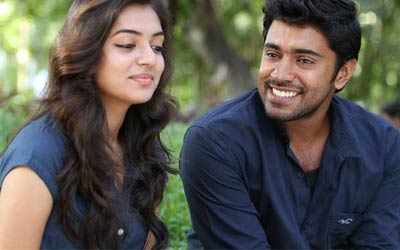 Movie Name (in Tamil)
நேரம்
Starring
Nivin Pauly, Nazriya Nazim, Simhaa
Story
Neram is all about the life of Vetri (Nivin Pauly) and Veni (Nazriya Nazim) . Mathew is a computer engineering graduate but lost his job. His life is a little complicated now, because he has taken a loan from a private moneylender Vatti Raja and is not able to repay the amount. Veni's dad Saravanar (Thambi Ramaiah) denies her marriage with Vetri as he is jobless. On the other hand they decide to elope and Vetri's friend John gives him some money for paying his debt to Vatti Raja. While Veni's chain is snatched and Vetri's money is stolen, Vatti Raja calls him and asks him to settle the money within 5 in the evening.

Saravanar lodges a complaint to SI Katta (John Vijay) against Vetri on charges of kidnapping Veni and gives Vetri's number. The sub-inspector calls him and tells him that he should come along with Veni to the police station within 5 in the evening. But problems are yet to come, Veni's brother asks some amount of money from Vetri for beginning a business (even that is scheduled for five in the evening). On the other hand Veni is kidnapped by Vatti Raja's men assuming her to be other guy's girlfriend who also has to return money to Raja. Vetri comes across the same guy and decides to snatch his chain. But unfortunately the guy meets with an accident and Vetri takes him to a hospital. The guy's brother iPhone (Nassar), who has influence assures Vetri of a job in his company. Suddenly, SI Katta arrives there and says that Vatti Raja died in an accident and a flashback reveals that Lighthouse(Simhaa), the guy who stole Veni's chain and Vetri's money had borrowed some money from Raja too.

He plots with two other in having the money for themselves and to steal Vatti Raja's car. While, the plans works out perfectly Vatti Raja's men go behind the car and Raja goes behind the other guy. In the chase Raja is hit by an auto and dies. Coincidencially, the driver was the driver who hit iPhone's brother with his vehicle too. Last of all, Vetri meets the guys who stole his money and involves in a brawl with them. He finds his money and a chain inside the car and also finds Veni in the car's rear (Vatti Raja hid her in his car). And therefore his problems have come to an end.