நேற்று இன்று நாளை பாடல் வரிகள்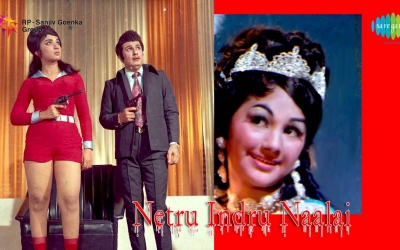 Movie Name
Netru Indru Naalai (1974)
Movie Name (in Tamil)
நேற்று இன்று நாளை
Starring
M. G. Ramachandran, Manjula, Latha
Story
Two swindlers, Nalasivam (V. K. Ramasamy) and Dayalan (Thengai Srinivasan) kill the wife (Pandari Bai) of the wealthy industrialist Manavalan Thangappapuram (M. G. Chakrapani).

The baby (MGR) who was with the mother, escapes from their claws by the intervention of a farmer (V. Gopalakrishnan), who raises the child as his own child by naming him Manickam.

Meanwhile, both criminals mean seeing Thangappapuram, with in the arms, another baby (M. N. Nambiar) and persuade the widower that they saved him.

Wild with joy by thinking of having found his newborn child, Rathnam, Thangappapuram does not know that a terrible trap has just closed on him.

Indeed, this fake Rathnam allows both men, Nalasivam and Dayalan to steal some money from Manavalan Thangappapuram.

But Manickam, finds that he is the real son of Thangappapuram and knows that his father is in a terrible trap.

Manickam tries to prove that he is real Rathnam, but Thangappapuram does not believe Manickam.

How Manickam makes his father to believe him and save him from the fake Rathnam, Nalasivam and Dayalan? is the plot of the story.