சகுனி பாடல் வரிகள்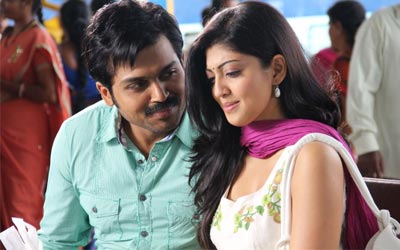 Movie Name (in Tamil)
சகுனி
Starring
Karthi, Pranitha
Music
G. V. Prakash Kumar
Story
The film starts with the demise of CM (Satyamoorthy), a political plot produced by Boopathi(Prakash Raj), thereby starting the film on serious note. Then, we are introduced to Kamala Kannan (Karthi), who tells his story to the auto driver AppaDurai alias Rajini (Santhanam). AppaDurai assumes that Kamala Kannan is rich and drives him around the city to be profited for him.

Kamala Kannan is a country boy, who is working in a small company. He has come to the city to meet the concerned politicians and plead them to halt a subway project, by which he could lose his property in his village. He is the son of a humble person, who serves unlimited food to the guests and passers-by every day. Under this background, he has come to Chennai to settle the matter, as the forefather's property is living heaven for the family.

Kamal stays in aunt's (Roja) house and love blossoms between Kamal and her daughter Sridevi (Pranitha Subhash). The love affair breaks up as it is not accepted by his aunt.

He meets the politician, Bhupati, who once visited their village during the election campaign and had promised to do good needs when required. But, Kamal comes to know he is the one behind the project. He later makes Ramani (Raadhika Sarathkumar) as the mayor of Chennai by helping in her campaigns. He later in a jail gets the contact of Perumal(Kota Srinivasa Rao), who has an infamous political party. Meanwhile, he joins Perumal's party and makes him win the election making him the CM of Tamil Nadu. Bhupathi is at last arrested for being the reason behind for Sathyamoorthy's suicide with his family. Kamal, at last saves his property with his intelligence.