தெறி பாடல் வரிகள்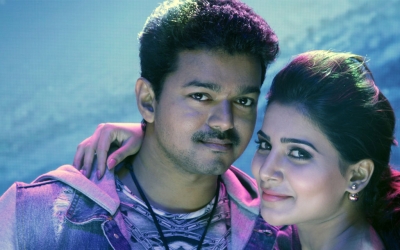 Movie Name (in Tamil)
தெறி
Starring
Vijay, Prabhu Ganesan, Samantha Ruth Prabhu, Amy Jackson
Music
G. V. Prakash Kumar
Story
Vijay Kumar (Vijay) is the honest and sincere DCP of Chennai. He takes up a case involving the rape and subsequent death of an IT employee Raji. He finds out that the rapist is Ashwin, the son of a minister Vanamaamalai (J. Mahendran). Vijay kills Ashwin and reveals himself as the murderer to Vanamaamalai, who swears to take revenge on him for killing his son. Meanwhile, Vijay falls in love with a medical student Mithra (Samantha Ruth Prabhu) and both eventually get married and lead a happy life. Vijay's happiness is short-lived though as Vanamaamalai, his younger brother Ratnam (Azhagam Perumal) and their henchmen barge into his house one night and kill Mithra and Vijay's mother (Raadhika Sarathkumar). They even brutally assault Vijay and attempt to drown Vijay's baby daughter Niveditha aka Nivi in the bathtub. The dying Mithra manages to rescue Nivi and asks Vijay to take care of her, but not before making him promise that he will quit the police and be a peaceful and loving father to Nivi, following which she dies in Vijay's arms. Vijay fakes his death, changes his name to Joseph Kuruvilla and moves to Kerala with Nivi and his constable friend Rajendran (Rajendran) to protect Nivi from Vanamaamalai and his gang.

Five years later, Vijay is leading a happy life in Kerala with Nivi (Baby Nainika), who is now in kindergarten, and is running a bakery with Rajendran. As per Mithra's dying wish, he gave up violence and raises Nivi to be non-violent. He meets Annie (Amy Jackson), Nivi's class teacher, and both become good friends. Annie soon finds out about that Joseph is none other than the "late" Vijay Kumar, but Vijay warns her not to tell Nivi about it. One day, while Nivi is going on an excursion, the brakes of the school bus in which Nivi is travelling fails and the bus plunges into the backwater. Vijay, with the help of Annie, Rajendran and the local people, manages to rescue Nivi and the other children. He finds out that Vanamaamalai, who has found out that he and Nivi are still alive, is responsible for the bus plunging into the backwater in order to kill Nivi. Enraged, he decides to abandon his non-violent principles and destroy Vanamaamalai and his gang once and for all.

Vijay, posing himself as the "ghost" of Vijay Kumar, starts eliminating Vanamaamalai's henchmen one-by-one. He first kills an inspector Karikalan (Stun Siva), who is one of Vanamaamalai's henchmen and was present at the night when Mithra was killed. The police are baffled at the murder as it was done within the police station, and refuse to believe that Vijay committed the murder, since they think that he is dead. The "mysterious deaths" continue, with Vijay pushing Ratnam to his death from a high-storey building being constructed by him. Vanamaamalai is accused of killing Ratnam since both had fallen out, forcing him to go into hiding. Finally, Vijay allows himself to be captured by Vanamaamalai's henchmen in order to enter his hideout. After eliminating Vanamaamalai's henchmen, Vijay kills him. The police soon arrive at Vanamaamalai's hideout, only to see his dead body hanging from the ceiling, and with nobody else around, his murder also gets sensationalised in the media as a mysterious murder. It is soon revealed that the Chennai commissioner of police Sibi Chakravarthi (Prabhu Ganesan) is aware that Vijay is alive and secretly re-employs him in the police to reduce crime in Chennai in his "ghost" form, taking advantage of the fear the negative elements of the society have for Vijay, while publicly denying that he is still alive.

A few years later, Vijay, Nivi, Annie and Rajendran have moved to Ladakh, with Vijay having changed his name to Dharmeshwar and Nivi grown up (Divya Saasha). But he continues to work secretly for the Chennai police, eliminating crime in his "ghost" form.