உழவன் பாடல் வரிகள்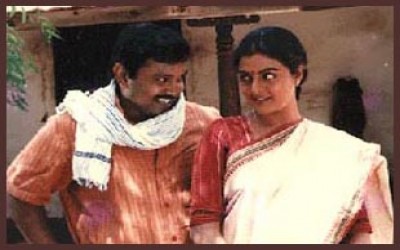 Movie Name
Uzhavan (1993)
Movie Name (in Tamil)
உழவன்
Starring
Prabhu Ganesan, Bhanupriya, Rambha
Story
The story of a farmer whose life changes after the death of his mother and meeting a school teacher.

Depicts the life of a young farmer who has lived life to his fullest and made others live it too. He faces the facts; he is fat and obnoxiously so. They know him as the fat one; that many a pink girl in half saris laugh at and wouldn't even dream of having to live with as a wife. His mother; an old and dying woman wishes for but to see her son happily wedded before she breathes her last.

Finally, things seem to be falling into place, with a beautiful country girl that agrees to marriage but later, tells him of her love for another man. Heartbroken, he agrees to wreck the marriage, post which his mother hates him and dies in pain.

He is ridiculed as the one that killed his own mother with his foolish acts. They cuss him and tell him that he would burn on a pyre of wet twigs. He cries to a local school teacher, who takes pity on him. She tells him of how one ought to look at the heart and not what forms outside it. Flesh. Blood. It's all but physical entities. But it's the heart that beats truly. She wipes his tears and teaches him life.