பகுபலி 2 பாடல் வரிகள்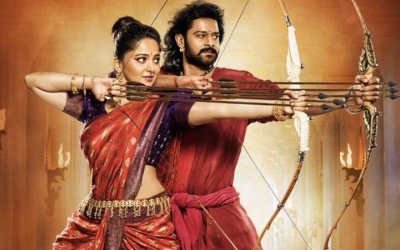 Movie Name
Baahubali 2 (2017)
Movie Name (in Tamil)
பகுபலி 2
Starring
Prabhas, Rana Daggubati, Anushka Shetty, Tamannaah
Story
Katappa (Sathyaraj) continues to narrate the story of how he ended up killing Amarendra Bahubali (Prabhas).

After vanquishing the Kalakeyas, Amarendra Bahubali is declared the future King and Bhalla Deva (Rana Daggubatti) is declared the Commander-in-Chief. Before the coronation, Queen Mother Sivagami (Ramya Krishnan) begins to look for a bride for Amarendra. She instructs Amarendra and Kattappa to tour the kingdom to understand its current state and its people.

Amarendra falls in love with Devasena (Anushka Shetty) who is a princess of the Kuntala Kingdom and the sister of the King of Kuntala. Bhalla Deva learns of Amarendra's attempts to woo Devasena and hatches a plot to drive a wedge between Amarendra and Sivagami by asking for Devasena's hand in marriage for himself. Sivagami, unaware that Amarendra is in love with Devasena, promises Bhalla Deva, Devasena's hand in marriage.

When Sivagami sends over a convoy to the kingdom of Kuntala, the Mahismati emissary delivers the marriage proposal in an unpleasant way. Devasena rejects the marriage proposal with harsh words. Sivagami is enraged to hear Devasena's response and orders that Devasena be brought to Mahismati as a captive.

The kingdom of Kuntala is attacked by Pinjaris, a decoit-like army. Amarendra, with the help of Devasena's cousin Kumara Varma(Subbaraju), is able to nullify the attack and save Kuntala. Amarendra reveals who he is, tries to allay the fears of Sivagami's rage and convinces Devasena to come with him to Mahismati as his future bride.

Upon reaching Mahismati the misunderstanding comes to light. When Sivagami delivers an ultimatum to Amarendra that he must either chose the throne or Devasena, he chooses Devasena. Bhalladeva is crowned king and Amarendra is made the Commander-in-Chief, but it's quite obvious that Amarendra is still the people's king.

At Devasena's baby shower, Bhalla Deva relieves Amarendra of his duties as Commander-in-chief so that Amarendra can be with his wife. Devasena immediately speaks out against the King's manipulation and the mute inaction of Sivagami. Due to further clashes, Devasena and Amarendra are banished from the Palace. Amarendra and Devasena live happily among the people. Bhallaladeva hatches a plot to convince Sivagami that Amarendra is trying to assassinate him. Sivagami, convinced that Bhallaladeva 's life is under threat and open action would result in factions and civil war, orders Katappa to assassinate Amarendra. Katappa, bound by his word to serve the Queen, lures Amarendra by feigning he is in trouble, and then stabs him in the back and kills him.

Katappa learns of Bhallaladeva 's treachery and informs Sivagami. Devasena too arrives to learn of her husband's death with her son, Mahendra Bahabali, in her arms. Sivagami informs the panicked hordes outside her palace that Amarendra is dead and the baby, Mahendra, is the new King.

As Bhalladeva and his men are about to seize the Queen, she flees with Mahendra Bahubali. Devasena is taken prisoner.

Mahendra Bahubali/Shivudu (Prabhas) returns to the palace and defeats Bhalladeva (who is later burnt alive by Devasena) and becomes the new King of Mahismati.