மௌனம் சம்மதம் பாடல் வரிகள்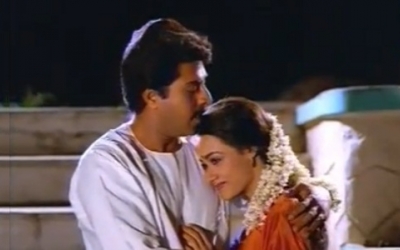 Movie Name
Mounam Sammadham (1990)
Movie Name (in Tamil)
மௌனம் சம்மதம்
Starring
Mammootty, Amala, Nagesh, Jaishankar
Story
Mounam Sammadham is a Tamil movie released in the year 1990. This movie was directed by K. Madhu and the music was composed by Ilayaraja. This is Mammooty's first Tamil movie.

The plot revolves around the wrong conviction of a business man and the efforts taken by the protagonist, a lawyer, to find the truth. The portrayal of the characters is similar in many ways to Malayalam cinema's investigative thrillers.

The suspense is well maintained until the climax with little clue to the audience on the identity of the real culprit. The screenplay and direction have helped in the persuasive portrayal of S. N. Swamy's interesting story.

The music by Illayaraja is melodious and ear-catching. The background music is smooth and supplements to the scenes. The lyrics written by Pulamaipithan and Gangai Amaran.