தேவர் மகன் பாடல் வரிகள்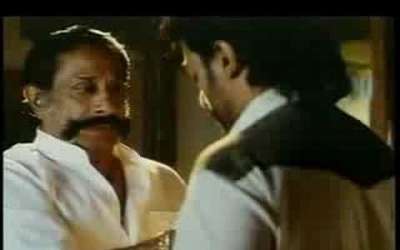 Movie Name
Devar Magan (1994)
Movie Name (in Tamil)
தேவர் மகன்
Starring
Sivaji Ganesan, Kamal Haasan, Nassar
Story
Saktivelu (Kamal Haasan) returns home to his father, Periya Thevar's (Sivaji Ganesan) village in Tamil Nadu, after completing his education in London. Much to his father's annoyance, he brings his westernized girlfriend (Gautami) with him to meet his family. Saktivelu plans on opening a chain of restaurants in Chennai which saddens Periya Thevar as he wanted his son to help the villagers with his education.

Periya Thevar is a well respected village chief. His younger brother (Kaka Radhakrishnan) and Nephew Maya Thevar (Nassar) hold a huge grudge against him over a family feud. Since most of the village is divided into the brothers' faction and as Maya Thevar always tries to one up Periya Thevar, it puts them at loggerheads with each other.

Saktivelu spends time in the village with his girlfriend by re-visiting his childhood memories. They come across an old temple which has been closed off on Maya Thevar's instructions. He insists on entering and his friend and servant Esaki (Vadivelu) breaks open the lock for them to look around. Maya Thevar hears of this and a brutal riot is started among the two village factions. Periya Thevar, in order to quell the situation, contemplates on apologizing to his opponents. Sakthivelu feels it should be him or Esaki who should apologize. When Saktivelu asks for Esaki, he learns that Maya Thevar has amputated Esaki's hand for opening the temple. In order to prevent further escalation of the situation Saktivelu, with permission from his father, enlists the help of his friends in the government and opens the temple for all legally. Slighted by this, Maya Thevar hires goons to break a dam protecting a part of the village faction that supports Periya Thevar. Although one of the villagers spots one of the goons near the dam, he doesn't think much of it.

The dam is damaged by explosives used by the goons which results in flooding of half the village. This results in numerous deaths including infants which deeply saddens Saktivelu. He spots the goon who placed the explosives again in the village and gives chase. After capturing, he hands the goon over to the police but the goon doesn't give up Maya Thevar's involvement due to fear for his family.

Later Maya Thevar closes a portion of his land to prevent the public from reaching the mainroad easily. Sakthivelu and his father invite them for talks at village Panchayat. In the village panchayat accusations fly from both sides. With no evidence backing up the truth, Maya Thevar accuses Periya Thevar for orchestrating various attacks on his brother's family. Disrespected and broken, Periya Thevar returns to his home and passes away shortly. Saktivelu takes over his father's duties as the head of the village.
As time passes, this incident dies down. The villagers express concern to Saktivelu about going around a piece of land belonging to Maya Thevar's side of the village everyday to work in their farm which causes a much longer travelling time. Saktivelu reasons with the owner of the land to open it up for all villagers to pass so that their long commute is shortened. Although understanding and willing, the land owner is afraid of Maya Thevar's backlash especially since he has a daughter (Revathi). Saktivelu assuages his fear by arranging marriage between a well-to-do person from his village to the land owner's daughter. Everybody involved happily agrees and the land owner opens up the land for everyone.

On the day of the wedding, the groom runs away fearing Maya Thevar. The landowner and his daughter are distraught over this claiming that it is a huge disrespect for his family. He opines that even if someone marries his daughter, they have to live in constant fear. Saktivelu then gets permission from the landowner and weds his daughter. Although Saktivelu still has feelings for his girlfriend and his new bride is very shy, they overcome their awkwardness and move on. Soon, his girlfriend returns and learns the truth. Although saddened by the turn of events, she understands the situation and leaves. Saktivelu, too, closes the chapter about his girlfriend and starts his new life with his wife.

Maya Thevar, agitated by the opening of the land, plants bomb in the village festival. This results in deaths on both sides of the village. Both factions of the village, wanting revenge, go after Maya Thevar and his family. Saktivelu protects the innocent family including his uncle and helps them get away from the villagers. Appreciative of Saktivelu's efforts to protect them, they give away Maya Thevar's hiding location.

Saktivelu goes to meet Maya Thevar and asks him to surrender to the police before the villagers kill him. Maya Thevar's rabid hatred for Saktivelu makes his reject his offer for help. Maya Thevar, blaming Saktivelu for all his problems, tries to kill Saktivelu. In the struggle that follows, Saktivelu accidentally kills Maya Thevar. Although other villagers are willing to take the blame for the kill, Saktivelu gives himself up to the police.