விஸ்வரூபம் பாடல் வரிகள்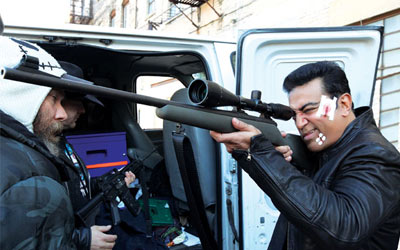 Movie Name
Vishwaroopam (2013)
Movie Name (in Tamil)
விஸ்வரூபம்
Starring
Kamal Haasan, Pooja Kumar, Andrea Jeremiah, Rahul Bose
Story
The film opens in a rundown pigeon shop in New York City where an old man feeds them. He then sends one pigeon away. It flies high and lands in a skyscraper off the office window of a psychologist who is conducting a session with her client Nirupama (Pooja Kumar), a nuclear oncologist, who begins to confide that her's was a marriage of convenience that provided a safe haven for pursuing her Ph.D in the U.S.A. for past 3 years and that her husband Vishwanath alias Viz (Kamal Haasan) is a middle-aged Kathak teacher. She is also put off by Viz' effeminate bearing and is attracted to her boss, Deepankar (Samrat Chakrabarti). Doubting whether her husband has secrets of his own, she hires a private investigator to tail him to probe grounds for divorce.

She learns from the private investigator that Viz is a Muslim. In a sudden turn of events, the investigator gets killed in a sea-side warehouse by Farukh, a prominent member of the terrorist outfit led by Omar (Rahul Bose). A business card on his wallet gives away Nirupama and the terror group led by Farukh nabs the couple.

Viz is involved in a fight with the terrorists, kills Farukh and his men at the warehouse and escapes with Nirupama. Omar and Viz have a past, one that takes the story back to circa 2002, to the Al-Qaeda training camps in Afghanistan-Pakistan border. Viz's real name was Wisam Ahmad Kashmiri. He is a Jihadi in Kashmir, wanted by the Indian Army, with an award of 5 lakh on his head. Omar accepts him into his team and drives him off to Afghanistan. Wisam becomes a trainer to the Al-Qaeda Jihadi's and also a family friend to Omar. One day, Omar tells Wisam that American POWs are still alive, incarcerated and shifted each fortnight. He orders his deputy Salim (Jaideep Ahlawat) to behead the Captain and capture it on video.

The next day, Salim tells Wisam that a new tall guest is expected in the town. Wisam later that night sees Osama Bin Laden greeting the Al Qaeda chieftains in a cave. Then, a joint US-led airforce begins bombing the town. Omar begins to doubt that there is an informer in the team but orders lynching of the wrong man.What follows is a maze of events that go back and forth in time, unraveling a plot where in the terrorists are scraping cesium from oncological devices to trigger a blast in New York City.

Nirupama is stunned to discover the true identity of Viz, his "uncle" (Shekhar Kapur), British "friend" Dr Dawkins (Miles Anderson) and the young "dancer" Ashmita (Andrea Jeremiah). Viz later reveals that he has a lot of emotional baggage and that he had executed many terrorists including Nassar (Nassar), Omar's boss. His mission is to bust the sleeper-cell of Al Qaeda in the US, which is planning to divert the attention through "capsules" capable of emitting mild nuclear radiation tied to pigeons while enabling Abbasi, a Nigerian suicide bomber to detonate the cesium bomb in the city.

Together, the Wisam team try to counter the plans of Omar. In the ensuing events, Wisam is arrested by the FBI before being rescued by his "uncle" Colonel Jagannath and Dr Dawkins is murdered by Salim while pickup up a video tape from an antique shop. The FBI later releases Wisam after a call from the Indian embassy and Prime Minister of India. Wisam along with the FBI, take down Abbasi and defuse the Ceasium bomb by using a microwave oven as Faraday cage to avoid incoming calls from any mobile phone. Omar and Salim try to escape in a plane. Omar tries to activate bomb through his phone, but fails. He then called Abbasi, but call is attended by Wisam, who tells him that Abbasi is not alive, Omar is shocked to hear this but escapes with Salim in his plane. The film ends with Wisam indicating that he would now go after Omar, alluding to a sequel set in India.