அரண்மனை பாடல் வரிகள்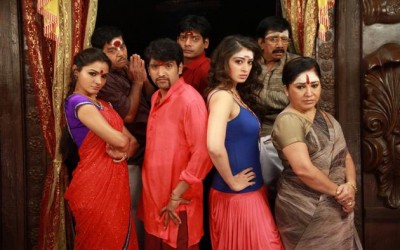 Movie Name
Aranmanai (2014)
Movie Name (in Tamil)
அரண்மனை
Starring
Sundar C., Hansika Motwani
Story
It is based on the film Aayiram Jenmangal (1978), which was a is a Tamil Horror movie directed by Durai and starring Vijayakumar, Latha and Rajinikanth in the lead roles.

In a village, a group of people are lead by Ayyanar(Saravanan)on a tractor. They are going to tidy the palace for owners who are coming to their ancestral Aranmanai (palace) to sell it. During the night, the cook(Kadhal Dhandapani) is frightened by some supernatural being in the palace and he disappears.

The next day, an estranged Eshwari (Kovai Sarala) returns with her husband(Manobala) and son(Nithin Sathya). Eshwari's brother's (Chitra Lakshmanan) and his daughter Maya(Raai Laxmi), welcome them. The brother and sister, along with another older brother's son Murali (Vinay Rai) and his newly wedded wife Madhavi (Andrea Jeremiah) have gathered to sell their Palace off to Ayyanar, who had leased the property for five years. Meanwhile, Paalsamy (Santhanam) sneaks into the Aranmanai under the guise of a cook, to find a photograph that is a sole evidence that he is also an heir to the palace, so that he can claim his share of the money.

They stay at the Aranmanai but strange incidents happen. Madhavi sees a servant's daughter speaking to someone who is supposedly an invisible person named Selvi Akka. The mother of the girl explains that she's mentally unstable. Mishaps continue to happen and they are unable to sell the palace,so they extend their stay. Meanwhile two other servants have also gone missing. Now Ravi (Sundar.C), the older brother of Madhavi comes to the palace to meet his sister. Hilarious incidents happen as Paalsamy tries to woo Maya and he has Ravi and Eshwari's son competing with him. Madhavi and Maya tell Ravi that there are weird things happening in the house. So he sets cameras up around the house with Maya's help.

Ravi sees that a worker is backing away from something, but the camera starts to fizz and goes out. At the same time, a fortune teller in front of the house runs away in terror, seeing something. The next day in the village pond, there are three bodies of the murdered workers found by the police. Ravi is shocked and visits the fortune teller who ran away from his house that night. The man reveals that he saw a worker being killed by a woman possessed by a vengeful spirit and he gives him an egg infused with dark magic, and tells that the egg will start reacting when the possessed woman is close-by. The police officers interrogate all the members of the house about the murders with Ravi seated opposite and the egg placed in front of him. Finally when the egg starts reacting by spinning vigorously, he looks up to see that the woman is none other than his own sister, Madhavi sitting for interrogation. He follows her and sees Madhavi wear a big round vermilion on her forehead and the mirror reflection shows Selvi(Hansika Motwani). Relating with the little girl's talks and the name Selvi, Ravi sets out to investigate.

The villagers portray Selvi as the girl who stole the Temple deity's jewels and ran off from the village. He comes across Selvi's friend Ramya. She says that Selvi is a nice girl who shared a sister-like relation with her living in the same house and that she is not a thief. Selvi is a girl who often impersonates the goddess and predicts the future accurately for the villagers. She adds that back then, Murali was not yet married and when he came to the village, he fell in love with Selvi. Selvi also liked him but she held herself back to maintain her holiness. On the day when Murali leaves the village, he expected her reply and asks her to meet him at his house before he leaves. Ramya encouraged Selvi to go and confess her love to Murali. Ramya ends her conversation with Ravi by saying that Selvi also left the house on that note and had gone missing since then.

As per Ravi's plan, when Ramya comes to meet the possessed Madhavi, she recognizes Ramya and tells her all that happened after she left the house that day. It is revealed that Ayyanar and his goons stole the temple's jewels and had replaced them with fake ones. Selvi knew this as she was equipped with prediction powers and confronted them. To hide their act, they killed her and buried her inside the palace when she came to meet Murali to confess her love. She also says that she wants to be with Murali always, as today is an auspicious day (Eclipse), and if she gets intimate with Murali, no one can drive her out of Madhavi's body forever. If her plans fail today, she will kill Murali, so that they will live together after death.

Ravi hears all this and tries to stop them but in vain. He meets a Swamiji (Kota Srinivasa Rao) who says that there are only two ways to stop Selvi's mayhem. One is by using a strong memory to bring Madhavi to her senses while she is possessed. Due to lack of time, it is a tough job and the other option is to bring Murali to the river junction where the ritual of the Eclipse takes place and goddess deities will be immersed in the river, generating a powerful energy which will help in separating Selvi's soul from Madhavi. Ravi instructs the members of the house to somehow disturb them and cause confusion to buy time. Selvi meanwhile, sends Murali into a trance and leaves the house to kill the remaining person - Ayyanar. She finds him and finally kills him. When she is gone, Swamiji and Ravi are back in the house trying to bring Murali out of his trance but Selvi is back and does not let Murali go, and threatens to injure Madhavi's body. Swami traps her in a circle of fire and helps Murali leave the house with Ravi. But she escapes and follows them and their car overturns and falls into the river. Selvi tries to drown Murali but Ravi stops her and tells Madhavi is pregnant and brings her to her senses but only briefly. At the same time, in the shore of the river, the goddess deity is immersed in the ritual and the power comes through the water to Selvi and she is released from Madhavi's body as the eclipse fades away. Selvi is seen from the sky and she sadly disappears and the couple reunite. In the end it is seen that another buyer has arrived to buy the palace and also Ravi unites with Maya.