ஜெமினி பாடல் வரிகள்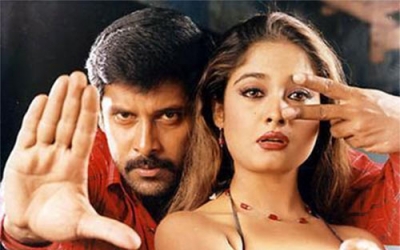 Movie Name (in Tamil)
ஜெமினி
Starring
Vikram, Kiran Rathod
Story
Teja (Kalabhavan Mani) is a high-profile gangster in North Madras, who often imitates the behaviour characteristic of different animals for sarcastic effect. Accompanied by his gang, he arrives at a magistrate's court for a hearing. His animal antics are mocked at by "Chintai" Jeeva, another accused. Teja and his gang retaliate and kill Jeeva within the court premises. Jeeva was a member of a rival gang headed by Gemini (Vikram), an aspiring goon from Chintadripet who aspires to dethrone Teja and take his place. To avenge Jeeva's death, Gemini hunts down the murderer Pandian while Isaac, one of Gemini's men, kills him. This incident leads to a feud between Gemini and Teja, and a fight for supremacy ensues. Pandian's mother Annamma (Manorama), a destitute woman, locates the whereabouts of her son's murderers. She approaches Gemini, becomes the gang's cook and awaits a chance to poison them.
Gemini meets and falls in love with Manisha Natwarlal (Kiran Rathod), a Marwari woman. To pursue her, he joins an evening class at the college that she attends and she falls in love with him, unaware of his true identity. Two businessmen approach Gemini to evict traders from a market so that a shopping complex can be built in its place. As the market is in his control, Gemini refuses the offer and the businessmen hire Teja to execute the job. Feigning an altercation with Gemini, his sidekick Kai (Thennavan) joins Teja's gang, acts as the inside man and foils the plan. Teja becomes enraged at being outsmarted by Gemini.
Singaperumal (Murali), an astute police officer, is promoted to the position of Director General of Police (DGP). Keen on eradicating crime, he arrests both Gemini and Teja and the arrests are made "off the record" owing to their political influence. Aware of the rivalry between them, Singaperumal puts them in a private cell so they can beat each other to death. While Teja tries to exact revenge for the market issue, Gemini does not fight back but persuades Teja to trick Singaperumal by pleading guilty and requesting a chance to reform. Gemini's trick works and they are released.
Since Gemini was arrested at the college, Manisha discovers his identity and resents him. To regain her attention, Gemini reforms his ways. Though his gang initially disapprove of it, they relent. As Gemini and his gang regret their actions, Annamma reveals her true identity and forgives them. Singaperumal helps Gemini to get back into college and reunite with Manisha. Teja returns to his gang and continues his illegal activities. He pesters Gemini to help him in his business. Gemini informs Singaperumal of Teja's activities; Teja is caught smuggling narcotics, is prosecuted and serves a term in prison.
A few months later, Singaperumal is transferred and a corrupt officer (Vinu Chakravarthy) takes his place. The current DGP releases Teja and together, they urge Gemini to work for them and repay for the losses they incurred but Gemini refuses. To force him to return to his old ways, Teja persuades Isaac to conspire against Gemini. With Isaac's help, Teja plots and kills Kai. Gemini is infuriated and confronts Teja to settle the issue. During the fight, Gemini beats up Teja and swaps their clothes, leaving Teja bound and gagged. The new DGP arrives and shoots Gemini dead; he later realises that he had actually shot Teja who was in Gemini's clothes. While the DGP grieves over Teja's death, he receives news that he has been transferred to the Sewage Control Board.