நீ தானே என் பொன்வசந்தம் பாடல் வரிகள்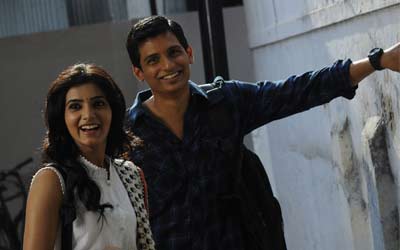 Movie Name
Neethane En Ponvasantham (2012)
Movie Name (in Tamil)
நீ தானே என் பொன்வசந்தம்
Story
The film begins with Varun (Jiiva) gaining admission into an engineering college, with his best friend Prakash (Santhanam). He and his friends one day participate in a cultural programme, where Varun finds his childhood sweetheart Nithya (Samantha) participating in a dance show. He begins wooing her by singing on stage and later meeting her. As they meet, the film rewinds to their early days when both were in third standard. They become good friends after a small incident and their friendship blossoms.

But due to a misunderstanding, Nithya decides not to meet Varun and to never talk with him. However, as destiny would have it, they meet again in their tenth standard. Nithya initially hesitates to talk with Varun, but sheds her inhibitions once Varun breaks the ice between them, and resumes her friendship with him. Nithya is elected as the pupil leader in school and as a pupil leader she is in constant interaction with Deepak, another pupil leader and her classmate, much to the dismay of Varun. As a result, they have another fallout.

The film moves to their current meeting in the college. Both forget their past misgivings and become friends again. This time, they fall in love. During the vacations, Nithya leaves India and Varun is left for himself. Varun's elder brother Harish (Ravi Prakash) who works in a software company, wants to marry his colleague and confesses the same to his parents. His parents oblige by offering to negotiate with the girl's parents. However, his parents are humiliated at the negotiations. Varun, in the process of consoling them, realises that despite their embarrassment, his brother and parents care about him rather than themselves.

He then decides to take his studies more seriously and begins preparing for CAT . Nithya comes back to India and sees Varun not spending enough time with her due to his busy schedule. Nithya too initially understands his situation. However, when she learns that Varun is going to IIM Kozhikode, she too proposes to go with him. Varun rejects her demand, saying that he is going to stay in a hostel, as staying outside in a rented house would be too costly for his family. This leads to a heated argument between the two and eventually ends in another break-up between them.

After graduating from IIM and landing a job, Varun goes about finding Nithya. Accompanied by Prakash and Jenny (Vidyullekha), he goes to Manapad, where Nithya is working as a school teacher at a tsunami relief camp. Nithya refuses to talk to him even after many attempts by Varun to start a conversation. When he finally gets her to talk, she rejects his advances, saying that she is happy with her current position. Varun, disgusted at her rejection, leaves the place. After some days, Nithya invites Varun to her sister's marriage. At the same time, Varun also mentions that he is about to get married and it is then Nithya who realises the magnitude of the deepening rift between them.

Shocked and surprised at this sudden development, Nithya realises that she couldn't fully understand Varun and breaks down before her sister. However, to the surprise of Varun, she attends his reception, which makes him think twice about his marriage. With his father's help, he realises that he cannot devote his love and heart to anyone other than Nithya. So he breaks his current engagement with the consent of his father and goes to Nithya's home to win back her confidence. Nithya too apologizes to Varun about her past behavior. The film ends with a note being shown that they are happily married, ever quarreling with each other and loving each other.