முகமூடி பாடல் வரிகள்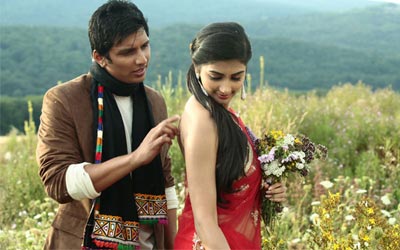 Movie Name
Mugamoodi (2012)
Movie Name (in Tamil)
முகமூடி
Starring
Jiiva, Narain, Pooja, Hegde Nasser
Story
Bruce Lee (Jiiva) is a martial arts specialist but unluckily he is unable to use those skills to make a living. Instead, he falls in love with Police Deputy Commissioner Gaurav's (Nassar) daughter Shakthi (Pooja Hegde), and tries to impress her and her elder sister's kids with his martial art skills. To make it more fun for them he pretends to be a superhero by wearing on a costume each time he visits. On his way back on one such visit, Lee finds himself caught in between cops and robbers chase in the city.

He decides to assist the police and manages to nab one robber from the gang and hands him over to the police. Lee doesn't realize that by doing so he has asked upon himself the revenge of Dragon (Narain) who heads the same gang.

As the police were involved too, Dragon eyes to take revenge on Police Commissioner Gaurav also. Dragon then connives a plan that eventually frames Lee as a robber and the attempted to kill the Police Commissioner. What lies ahead for Lee now is to prove his innocence to the Police, win his love back Shakthi and more importantly bring Dragon and his gang to justice.