நான் கடவுள் பாடல் வரிகள்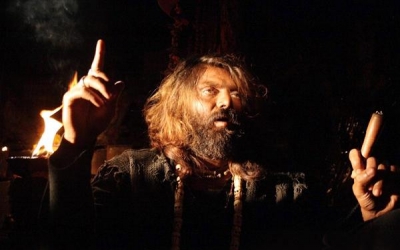 Movie Name
Naan Kadavul (2009)
Movie Name (in Tamil)
நான் கடவுள்
Story
For astrological reasons, a father leaves his son Rudran (Arya) in Kasi. Fourteen years later, repenting his act he goes with his daughter in search of him. He finds him there but is shocked to learn that he has become an Aghori, a cannibalistic character who gives moksha and prevents the soul from getting rebirth. Nevertheless he brings him back to Tamil Nadu. The story takes a turn here and introduces us to the world of physically and mentally challenged beggars. A world controlled by the cruel Thandavan (Rajendran). Hamsavalli (Pooja Umashankar) a blind girl is forcefully separated from her troupe and made to join the beggars.

Soon she becomes another victim of Thandavan's cruelty. Meanwhile, Rudran leaves his house to find his place on a small cave, and soon meets Hamsavalli, who tries her best to convince him to return home, but fails. Thandavan then takes a deal with a Malayali man of the same profession to sell some of the beggars.The Malayali guy forcefully takes the beggars away,although they want to stay with the rest of the beggars. He returns again,but this time to force Hamsavalli to marry an ugly, deformed man for 10-lakhs worth of money. Thandavan orders his men to bring Hamsavalli but they take Hamsavalli to Rudran to help her.

Rudran kills the Malayali guy and is also arrested by the local Police. This agitates Thandavan and he orders the Police man to release Rudran so that he can kill him. In the mean time Thandavan also finds Hamsavalli and on one incident, Hamsavalli refuses to marry the deformative,which angers him and he runs away without marrying her. This angers Thandavan, who deeply wounds her. Rudran is shown wounded in his forehead with blood oozing out. Flashback opens where Thandavan appears face to face with Rudran. In the fight between the two, Rudran kills Thandavan. Rudran's wound in the forehead is caused due to the fight. She later goes crying to Rudran to somehow free from this curse and also prevent her from rebirth. The aghori then kills her and grants her moksha. In the final scene Rudran returns to Kasi.