சமர் பாடல் வரிகள்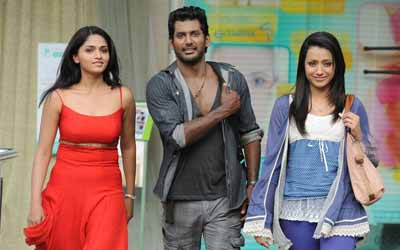 Movie Name (in Tamil)
சமர்
Starring
Vishal, Trisha Krishnan, Sunaina
Story
The film opens with Sakthi (Vishal), son of a forest ranger, beating up a gang that illegally cuts precious trees to earn money. Sakthi is a jungle trekker who spends his time bringing groups of tourists on trips into the jungle.
Almost immediately the story changes track and introduces Sakthi's girlfriend Rupa(Sunaina). The lovers soon part ways citing compatibility issues where Rupa complains that Shakthi is not the loving boyfriend she wanted. Sakthi's character is as such that he does not remember even a single detail in their love life that Rupa deems important. Rupa tells Sakthi that he does not seem to have the time for a girlfriend, and that he does not even care to do so.

Rupa further aggravates the situation by asking Sakthi to close his eyes and tell her the colour of the dress she was wearing right then, but Sakthi finds that he could not. Grieved, Rupa leaves Sakthi, saying this was his character and that he would not change.

After three months, Sakthi still had not recovered from his breakup. However, he receives a courier from his girlfriend saying that she misses him, and a flight ticket to Bangkok where she resides now. Sakthi is overjoyed, and leaves for Bangkok. Being his first trip to a foreign country, Sakthi seeks help from his beautiful co-passenger Maya (Trisha). They end up becoming friends and Sakthi tells Maya about his lady love.

In Bangkok's Suvarnabhumi Airport, Sakthi and Maya part ways, and Sakthi makes his way to the Buddhist Temple where Rupa had written in the letter that she would meet him at. Although he waits for hours, Rupa doesn't turn up. At night, IPS Officer Muthumaran (Sampath Raj) checks on him, saying that he wasn't allowed to stay at the temple at night. Upon learning that Sakthi is a Tamilian just like himself, he offers him a place to stay while Sakthi finds his girlfriend. However, Muthumaran does imply that he does not trust women, and that Sakthi should not get his hopes up high that Rupa will come looking for him. Another day, in a case of mistaken identity, Sakthi gets caught up in the middle of a shootout between two gangs, one intent on protecting him and the other seemingly hell-bent to riddle him full of holes. As the gang protecting Sakthi gain the upperhand in the firefight, they whisk him away to a posh hotel in a luxury car. Sakthi is confused and doesn't understand why he was dragged off. A magazine in the seat next to him in the car attracts his attention and to his shock, Sakthi sees an exact look-alike on the cover of the magazine. It turns out that his doppelgänger, remarkably also named Sakthi, is a multi-millionaire tycoon who is adored by many and targeted by a few in Bangkok. He doesn't know how to prove his identity as everything stands against him. Things get bizarre as Trekker Sakthi has been forcefully dropped into the role of Tycoon Sakthi and situations seem to prove him as someone he was not. In the hotel, Trekker Sakthi argues with the Tycoon Sakthi's personal assisstant Manohar (John Vijay) about his true identity. He takes out his passport and shows it to Manohar. An amused Manohar gives the passport back to Trekker Sakthi and asks if it was true that he was merely the son of a forest ranger, why would he have multiple visas of so many countries, which was expected in a businessman's passport.

To his horror, Trekker Shakthi finds that his ordinary, rarely-travelled Indian passport has inexplicably turned into a Thai passport with visas to several countries like Australia, New Zealand and the United States. Sakthi enlists the helps of Maya, who brings him to a branch of Bangkok Bank to recover his details, hoping there would be a discrepancy somewhere to help Trekker Sakthi prove he wasn't Tycoon Sakthi. In a turn of events, when Trekker Sakthi signs his signature to access the Tycoon's bank account balance hoping that his different signature might be proof enough, the bank's security system shows that his signature was an exact match - and that he had a little over half a billion US Dollars in his account. At this juncture, even Maya starts to suspect that both Sakthis are the same person. Sakthi gets further and further mangled in more trouble with his assumed identity.

After a long cat and mouse game, Sakthi spots Manohar again, not in a business suit as before, but as a pimp in the streets. Sakthi gives chase and beats him up enough to find out the truth - that he was being played by two ruthless, psychotic businessmen watching his every move through hidden cameras, who have orchestrated all the bizarre situations Sakthi had found himself in before Manohar reveals the names he gets shot and falls down in the hole. Shakthi is blamed for the murder and police does not believe his situation. Sakthi comes to know that Rupa never written the letter. Later he finds that they have conducted this game multiple times on unsuspecting people, choosing random targets, placing bets on them to determine whether they survive or not, Maya was involved in the same. Both villains bring a person posing as Maya's boyfriend to provoke the anger of Sakthi so that he would show his anger towards Maya.

Sakthi plays the same game back at the villains with Maya by pretending to slap and kill her (two villains think that Maya is really dead) and making her stand at night by making their car collide in the road. Next day, Rajesh and John find out that they are staying in a suite owned by their friend. Others (Joseph, Muthumaran, Jayakumar) involved in the game arrives in the place, film ends with Sakthi and Maya escaping from the place while gunsound is heard which indicates that both villains are killed.