சதி லீலாவதி பாடல் வரிகள்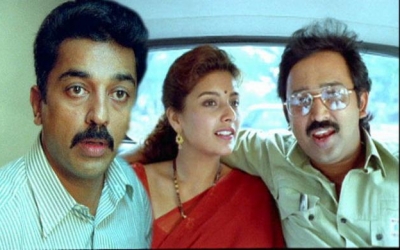 Movie Name
Sathi Leelavathi (1995)
Movie Name (in Tamil)
சதி லீலாவதி
Starring
Kamal Haasan, Ramesh Aravind, Kalpana
Story
Arun (Ramesh Arvind) is married to Leelavathi (Kalpana) in a resigned marriage. He is embarrassed by his wife's plain looks and her weight. When he meets Priya (Heera Rajagopal)- a real estate agent, he omits to tell her he is married and has an affair with her.

When he takes Priya with him on a vacation to Bangalore, he bumps into his old friend Dr. Sakthivel Gounder (Kamal Haasan)- an orthopedic surgeon from Coimbatore who is also in Bangalore with his wife Palani (Kovai Sarala) and his son Anand - travelling with him in the same flight and even staying in the same hotel. Sakthivel is called to Arun's room in the night - as Arun has slipped his disc and the hotel doctor is unavailable - and bumps into Priya thus finding out about the affair.

After returning to Chennai, Priya finds out that Arun is married but decides to continue with him when Arun says he was forced into marriage and promises to divorce his wife. When Arun's wife Leelavathi discovers Arun's affair, she has a huge showdown which leads to Arun leaving the house.

Thus begins the titular action of 'Sathi' meaning to concoct plans for an enemy's downfall. Leelavathi's various methods of making her husband understand the true values of life, marriage and fidelity, with the hilarious aid of Dr Sakthivel Gounder forms the crux of the story.

The word 'Sathi' is sometimes used in the Hindu religion to describe a devoted wife.