தா‍ஸ் பாடல் வரிகள்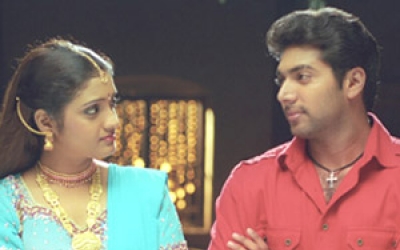 Movie Name (in Tamil)
தா‍ஸ்
Starring
Jayam Ravi, Renuka Menon, Vadivelu
Story
The film begins in a small village in Tirunelveli district where a few upper caste men hold a chariot festival. Antony (Jayam Ravi) along with his friends pull the chariot in to their slum and they naturally incur the wrath of a local leader Annachi (Shanmuga Rajan). Meanwhile his daughter Rajeswari (Renuka Menon) falls in love with Daas. Her sister Punitha (Monica) elopes to marry a lower caste boy Guna (Abhinay), a classmate of Daas.
Coming to know about this, Annachi sends his men to bump off the couple. Eventually, Annachi set the couple ablaze in front of Daas. An angry Rajeswari in order to teach her father a lesson elopes with Daas and vows to get married. The couple then seeks refuge in the house of Nasser (Krishna) in Madurai. He promises to get them married. However coming to know about their hideout, Annachi's men reach Madurai to foil their plans. Nasser's father Vappa (Salil Ghouse) promises to get them united. Enters Anwar (Adithya Menon), Nasser's brother, who plans to let loose terror in the Madurai town in the name of Jehad.
How Daas emerges triumphant from all the troubles and marries Rajeswari forms the rest of the story.