மனம் கொத்தி பறவை பாடல் வரிகள்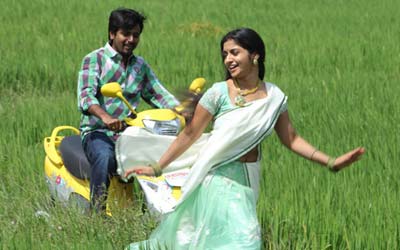 Movie Name
Manam Kothi Paravai (2012)
Movie Name (in Tamil)
மனம் கொத்தி பறவை
Starring
Sivakarthikeyan, Aathmiya
Story
Kannan (Sivakarthikeyan) is a carefree youth who assists his father (Ilavarasu) in his construction business. He spends time with his friends (Parotta Suri, Singam Puli and 'Deiva Thirumagal' Kishore).
Kannan is in love with his neighbour Revathy (Athmiya), whose father and uncles are the most dreaded goons in the village. They are both childhood friends.

He gets a shocker when he decides to reveal his love to Revathy. Her family has arranged her a marriage with an influential man. To avoid the arranged marriage, Kannan's friends from Mumbai (Sreenath and Chams) kidnap Revathy.

There is a twist in the tale. Revathy declares she has no romantic interest over Kannan. "He is just a friend", says the girl at first. But later reveals that she loves Kannan too, so much so that if others knew it, it'd be a problem to him and prove to be a risk to his life.

Meanwhile, the bride-to-be's family searches frantically to find their girl. They get hold of Kannan and his friends. Revathy and Kannan are separated.

After two years, Kannan returns from Oman after having worked as a Site Engineer there, to meet his love. He meets her with avidity and they talk for a while when Revathy asks him to leave immediately, for fear that her father would harm him.

Kannan, still a passionate lover, asks Revathy if they could marry, now that she's not married to anybody else. Revathy's father barges in unexpectledly and asks Kannan to leave the house... but with his daughter.