முதல் இடம் பாடல் வரிகள்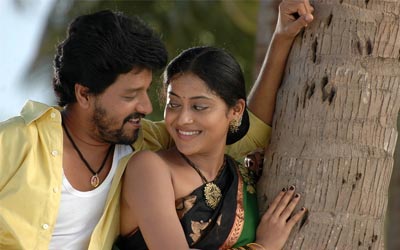 Movie Name
Mudhal Idam (2011)
Movie Name (in Tamil)
முதல் இடம்
Starring
Vidharth, Kavitha Nair
Story
Mahesh (Vidharth) is a thug in Thanjavur. His only ambition is emerge as the Number 1 rowdy with his name topping the list of wanted criminals in the local police station. He is called 'Yamakunji'(junior lord of dead) by his friends for he wants to send fear in the spine of his opponents. He indulges in all unlawful activities to achieve his mission. But for his mother (Kalairani), he is the best son on earth. She earns her livelihood running an idly shop.

Mahesh meets Mythili (Kavitha Nair), a school student and daughter of a bus conductor (Ilavarasu). Though Mahesh is hated by all, Mythili falls for him. However, Mythili's father opposes their affair.

Things take a turn when Karuppu Balu (Kishore), the number one rowdy in the area comes out of the jail. Mahesh incurs the wrath of aspiring MLA for no fault of his. Things take a turn, when Mythili elopes from her house and Mahesh is forced to kill Balu. The movie ends with a strong message.