நந்தவனத் தேரு பாடல் வரிகள்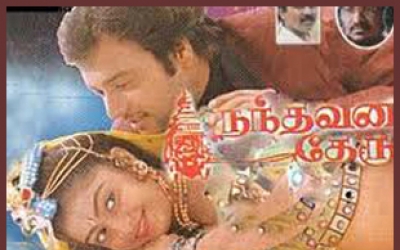 Movie Name
Nanthavana Theru (1995)
Movie Name (in Tamil)
நந்தவனத் தேரு
Starring
Karthik, Srinidhi, Anandaraj, Devan
Story
Seenu (Karthik) grows as an orphan and becomes a full-time stealer, he helps prisoners by solving their problems outside. One day, intrigued by a prisoner silence, Seenu asks him his problem. The prisoner is Adhiseshan (Devan), maternal uncle of Gayatri (Srinidhi), and he wants to save her life from her paternal uncle (Anandaraj) and her brother. Seenu promised him to solve his problem. Firstly, Gayatri avoids Seenu but she soon understands the conspiracy of Rajasekhar and she begin to be closed with Seenu.

Adhiseshan reveals to Seenu after seeing the photo of Seenu's mother that he is his father. Happy, he brings Gayatri to Adhiseshan's home but they find him death. Gayatri's guardians borrows lot of money, so they are sent to jail, she cannot stay to her house so Seenu accommodates her. Seenu decided to earn money in the right way to realize Gayatri's dream : to become a Carnatic music singer. When she becomes a famous singer, she builds a new house and she reveals to Seenu that she's in love with Suresh (Siva), her hardcore fan.

Suresh's father releases Rajasekhar to separate them before their marriage. Seenu manages to save them and the couple elope. To keep his neighbouring (Manorama) promise after her death, Seenu decide to carry the widow woman and her son.