என்.ஜி.கே பாடல் வரிகள்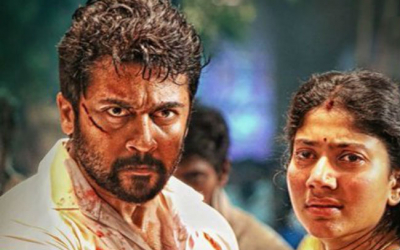 Movie Name (in Tamil)
என்.ஜி.கே
Starring
Suriya, Sai Pallavi, Rakul Preet Singh
Story
Nandha Gopalan Kumaran is a social worker and good doer, specialised in organic farming. He has a huge support from the youngsters in his village who were inspired by him quitting his high profile job for serving his country. He lives with his mother Viji; father Ramanan, a former military officer and a possessive wife Geetha Kumari, who is a major strength for him.

He happens to meet an old friend, Raja, the right hand man of the area MLA, while trying to solve the problem of a few youngsters. He gets a big shock upon finding that what he tried for a long time and failed was done by his friend through the area councillor in a single phone call. Meanwhile, a few shopkeepers, middlemen and others who alarmed by Kumaran's organic farming gives him an ultimatum and later attacks the people and burns their farms using chemicals when he refuses to give up. In order to make things good, Aruna Giri a native asks Kumaran to meet the MLA, Pandiyan, who happens to be ruthless and a narcissist. He agrees to help if Kumaran joins his political party,KMK, along with 500 others from his villages to which he is forced to comply. Pandiyan ill treats him and asks him to clean his toilet, buy biriyani and even bring a sex worker. Though furious at first he decides to use the situation to gain Pandiyan's trust and in the process do good for his village. He discovers that Raja is suffering from terminal cancer and will not live long.

Kumaran happens to meet Vanathi Thiagarajan who was appointed by the party with a monthly income of 1.2 crore to help them win the upcoming elections. Impressed by Kumaran, she seeks his opinion soon starting an affair with him much to his wife's suspicion. Kumaran asks Vanathi to select Kesavamoorthy, the Home Minister, as their target. Despite threats from Killivazhavan"Killi", the Chief Minister, he manages to expose the ill deeds of the Home Minister and arranges a scripted revolt for their party's benefit. However, Raja makes Kumaran kill him so as to intensify the people's emotions for their party and make the latter an important figure. Kumaran is arrested and later admitted in the hospital. Killi is shocked to find that Kumaran has turned the tides against him and decides to kill him. Kumaran is soon confronted by goons in doctors' disguise whom he single handedly defeats with great difficulty. The next day he puts up a show in the front of his villagers gaining their trust. Pichai Muthu, the leader of KMK, is alarmed by the popularity of Kumaran and also finds that Vanathi is helping him. He decides to nominate Kumaran as the candidate for the upcoming elections to the legislative assembly.

The night when he is to address his villagers, he is badly attacked and his wife is stabbed. Vanathi comes to her rescue. Pichai who had organized the attack kills Kumaran's parents. An angry Kumaran addresses the gathering with full vigour causing them to attack and kill Pichai and his accomplices. Vanathi decides to leave their relationship to Kumaran. Kumaran forms a new party,Makkal Munnetra Kazhakam and wins the upcoming elections forming a coalition government. He reunites with his wife. Kumaran becomes the new chief minister and while in a channel interview mentions about strengthening his hold in the state.