பவித்ரா பாடல் வரிகள்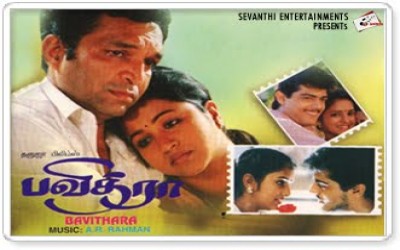 Movie Name
Pavithra (1994)
Movie Name (in Tamil)
பவித்ரா
Story
Pavithra (1994) is a Tamil film directed by K. Subhash under his home banner, Dhanooja Films. The film features Raadhika in the lead role with Nassar and Ajith Kumar in supporting roles.

The film's music was by A. R. Rahman and lyrics by Vairamuthu, who won the National Film Award for Best Lyrics for the film. The film opened on November 5, 1994, and received critical acclaim.

The film is about a quasi-mother-son relationship between Radhika and Ajith. Ajith is a patient suffering from Cancer and Radhika is a nurse in the hospital where Ajith is being treated.

Since Ajith's age is same as her child,which was still born and died and she is childless, Radhika showers maternal affection on Ajith, which Radhika's husband mistakes as something else because of a villain doctor who is a rouge . Confusion ensues and Radhika misunderstands Ajith and the climax is how all confusions are laid to rest, along with the hero!