ரங்கீலா பாடல் வரிகள்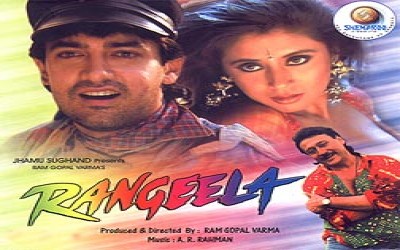 Movie Name
Rangeela (1995)
Movie Name (in Tamil)
ரங்கீலா
Starring
Aamir Khan, Jackie Shroff
Story
A street-toughened orphan by the name of Munna (Aamir Khan) is befriended by some kind folks, whose effervescent daughter Mili (Urmila Matondkar) soon grows to be his best buddy. Both gravitate toward the Mumbai movie industry. While Mili finds occupation as a movie extra, Munna earns his livelihood selling movie tickets in the black market.

Mili has ambitions of becoming an actress. Fortune glances her way, when she dances her way into a movie star's attentions. This actor, Raj Kamal (Jackie Shroff), arranges for her to be auditioned for the heroine's role in his upcoming movie called Rangeela. Mili's shortcomings amount to distractions, but thanks in no small way to Munna and Raj, she lands the role.

Raj and Munna both fall for Mili, but Mili is too busy making the movie to notice any of this. She starts spending a lot of time with Raj during the filming. Munna tries many times to tell Mili that he loves her, but he is unable to, or Raj gets in the way. Eventually, feeling inferior, Munna decides to leave Mili to Raj, who can give her a better life than he can. The matter is not resolved though, as Mili hears of this on the film's opening night. She asks Raj to help her find Munna, which he does after realizing that Mili seems to love Munna and not him.