Boss என்கிற பாஸ்கரன் பாடல் வரிகள்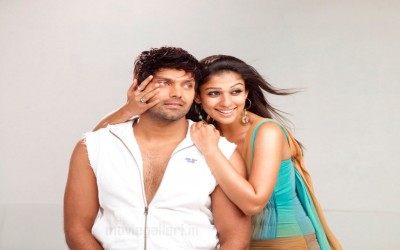 Movie Name
Boss Engira Bhaskaran (2010)
Movie Name (in Tamil)
Boss என்கிற பாஸ்கரன்
Starring
Arya, Nayantara, Santhanam
Story
Bhaskaran (Arya) is a happy-go-lucky guy, who is yet to complete his B. A. Degree, writing arrear examinations annually for years. His only friend is Nallathambi (Santhanam) who owns a Hair Cutting Saloon named Thala-Thalapathi Saloon (named after the titles of actors Ajith and Vijay) which he received as a dowry for marrying a two-month pregnant woman. Bhaskaran, during an arrear exam, happens to meet a young lecturer Chandrika (Nayantara) and instantly gets attracted to her, though she disapproves of him because he attempted to copy during the exam.

Bhaskaran lives with his mother, Sivakami (Lakshmi Ramakrishnan), brother Saravanan (Panchu Subbu) who is a successful veterinarian and sister, Nithya (Monisha). When his brother marries Nandhini (Vijayalakshmi), he finds out that Nandhini's younger sister is actually Chandrika, and wishes to marry her. When he approaches his family for a chance, everyone talks very frankly of his unemployed status which rankles him and causes him to leave his house to prove himself.

With the support of Nallathambi, he establishes a tutorial for Class 10 students and despite early setbacks makes it work and ensures that he makes a very heavy profit on the deal, while also convincing Chandrika, who eventually reciprocates his love. However despite all this, Chandrika's father Shanmugasundaram (Chitra Lakshmanan) is against her marriage with Bhaskaran, the reason being that he had been once insulted by a drunk Nallathambi as revenge for not having sanctioned a loan to Bhaskaran, who also gave him the nickname "Mongoose Mandaiyan" (Mongoose Head).

Shiva (Jiiva), a supposed "teetotaler", is introduced as Chandrika's prospective groom. Bhaskaran then confronts Shiva, explaining to him that he loves Chandrika. The two get into a fight soon after, but when Shanmugasundaram arrives at the spot, he learns the truth: Shiva was hired by Bhaskaran to fool everyone about his identity. Under Shiva and Bhaskaran's orders, a disappointed Shanmugasundaram finally is forced to unite Bhaskaran and Chandrika.