புதுக்கோட்டையிலிருந்து சரவணன் பாடல் வரிகள்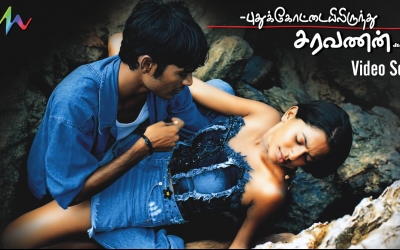 Movie Name
Pudhukottaiyilirundhu Saravanan (2004)
Movie Name (in Tamil)
புதுக்கோட்டையிலிருந்து சரவணன்
Starring
Dhanush, Aparna Pillai, Karunas
Story
Saravanan's (Dhanush) parents manage to send him through a severe financial drought thinking that he would pay off all their debts as soon as he lands in Singapore. Saravanan finds a job in Singapore through an agent and lands there with high hopes of earning 3 lakh and sending money back to his family. Living in a cramped apartment, Saravanan gets into an argument with a Chinese immigrant there. One day, the immigrant burns Saravanan's passport and Saravanan starts fighting him. The Chinese man is killed inadvertently in the fight. Everyone thinks that Saravanan is responsible, and he flees.

Shalini (Aparna) lives a luxurious life with her uncle in Singapore. Her parents and other relatives live in India. Shalini's uncle gets into a huge debt and ends up pawning her in a gamble. After losing the bet he escapes at gunpoint. He finds Saravanan and asks Saravanan to take Shalini back safely to her family in India, and in return he will get the amount of money he has been wishing for, 3 lakh, as payment.

With the help of Vimal (Karunas) Saravanan gets a duplicate passport. He and Shalini walk, hitchhike, and drive through Malaysia, Thailand and Burma to get to India. Saravanan is injured at a checkpoint. As they arrive in Malaysia Shalini falls in love with Saravanan. He tells her that his parents have arranged a marriage for him to a relative he hasn't seen. She uses some money he earned to have his name tattooed on her chest. This shocks him, but he is eventually attracted to her. They arrive in Burma, and Saravanan gets money for food by participating in an arm-wrestling competition. They cross the border into India under the cover of a sandstorm.

Shalini is reunited with her parents safely, who give Saravanan the promised money. She asks him to return in two months if he loves her.