சென்னை 600028 2 பாடல் வரிகள்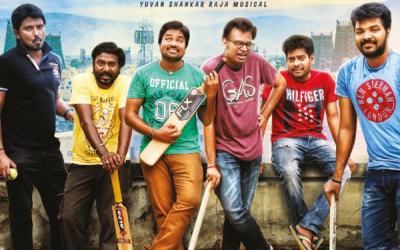 Movie Name
Chennai 600028 II (2016)
Movie Name (in Tamil)
சென்னை 600028 2
Starring
Jai, Shiva, Vaibhav, Premji
Story
The film starts with the narration of major events which get unfolded during the phase of eight years in Chennai and the current situation of their core members, their marriages, and their career growth.

The Sharks team is now coached and headed by Gopi (Vijay Vasanth), who trains the local guys to take forward the legacy of the team founded by his father in the late 80s. Now he owns a battery shop along with the mechanic shop as seen in the first film. He is married to Poonam (Anjena Kirti), a North Indian girl from Sowcarpet.

Karthik (Shiva) owns a finance company provided the support from his brother Guna (Sampath Raj). Along with that Karthik also reviews films online. He is married to Selvi (Vijayalakshmi), who is Pazhani's (Nithin Sathya) sister.

Pazhani had failed in police selection due to lack of height, but still hasn't given up plans to move abroad for better fortune. He is married to Ezhumalai's (Ajay Raj) sister Uma (Krithika). She is more suspicious of her husband and ridicules him most of the time.

Ezhumalai now runs a travel service. He owns a couple of ambulances and his wife Stella (Maheswari Chanakyan) is a naive woman, who believes all of Ezhumalai's lies.

Seenivasan aka Seenu (Premji Amaren) is still a bachelor who runs a supermarket and always want to enjoy the company of his friends, but they try to convince to get him married, so there wouldn't be a need for them to accompany him. The wives of the above-said team members oppose their husband's friendship with Seenu thinking he is one forcing their husbands to have drinking sessions and also wasting time. Imran (Ranjith) migrates to Mumbai, which is not heard of.

Shanmugham (Prasanna) is working in the U.S as a software engineer, and Udhay (Arun) has disappeared from the place. The young college student Arivu (Karthik), who is away from Chennai now becoming a director of movies, remains in touch with his friends by phone.

Aravind (Arvind Akash) had eloped with a rich girl and had also stolen one and half lakh rupees kept as prize money for the cricket tournament and ran away with the girl. Somehow they manage to conduct the tournament but at the cost of some humiliations. Manohar Anna (Ilavarasu), the saloon owner still remains the same and proudly boasts that he is the manager of the Sharks team. After the introduction of all the team members there is a shift to the storyline.

The major part of the story is Raghuvaran aka Raghu (Jai) and Anuradha's (Sana Althaf) marriage which is about to take place in Anu's native place in Theni district. Here they meet their old friend Aravind by chance whose local cricket team along with Oor Kaavalan (Mahat Raghavendra) and plays cricket against Maruthupandi aka Maruthu (Vaibhav)'s team. First they promise to play in an intoxicated stat and later refuse to play because of their wives. But, without any one's knowledge they play the semi-finals match and win the match.

After the winning party, they come to know that Raghu had tied knot with Soppanasundari (Manisha Yadav), the girl who danced with them in the party, but before everyone knows that Raghu removes the Thali from her even without her knowledge. On the day of engagement, Gopi, Karthik, Pazhani, Ezhumalai, and Seenu come to know Maruthu had clicked a picture of Raghu and Soppanasundari, and he was the one who sent her to the party. He blackmails them to lose the match against them. Except Aravind, everyone in the team comes to know about the picture in the middle of the match so everyone plays poorly and loses the match. Before the match gets over, the picture becomes viral. This is because Maruthu's friend Ganeshan (Abhinay Vaddi), who loves Anu from his childhood, wants to marry her, so he posts the picture in Facebook and WhatsApp.

The marriage gets stopped and the friends get separated. After a few days, Raghu was getting ready to move to Bangalore. The friends including the Rockers team members John (Inigo Prabakaran), Sundar (Jeeva), and Manohar Anna convince and promise Raghu that they will help him reunite with Anu. After lying to their wives, the friends team goes to Anu's village to convince her parents. There Raghu gets a shock about Anu's marriage engagement with Ganeshan. On the way, Raghu and his friends get into a fight with Maruthu and friends. The villagers gets angry on Raghu and his friends fearing they came to stop the marriage and they want them to go back to Chennai immediately. However, Aravind comes to their rescue and says everyone that they have come to play the tournament match, not to stop the marriage. At first, everyone including Raghu refuses to play the match. But, to convince Anu and family they accept to play the match in the name of Chennai Sharks. Raghu meets Anu in a temple and tells her that the photo is a fake one and she asks him to prove it. Raghu and his friends edit the photo of every men in the village with some women and release it go viral. Anu gets convinced and warns Raghu that everyone is coming to the place where they are staying. Raghu asks her to meet him immediately. With the help of Anu's grandmother (Sachu) they meet in the ambulance, but Maruthu chases them.

Raghu and his friends reach the police station, and Anu goes with her father. With the help of the sports minister (Shanmugasundaram), they reach safe to their shelter. The next day in the semi-finals, they play with Usilampatti Bad Boys with whom the Sharks have already played a bet match and lost Gopi's bat as bet but this time, the Sharks won the match and the bat returns to Gopi again.

The next day, Anu's family is moving to Tirupathi for her marriage. At night before Anu family's, Raghu comes with his friends to elope with Anu but Maruthu comes. Next day after the toss Seenu calls Aravind and tells him to stay safe as because Raghu and Anu had eloped and married and they were returning to Chennai. Then it is revealed that Maruthu had helped Raghu to elope with Anu.

During the Finals, it is shown that Aravind is left with no team members by his side except one local guy, it is followed by a hilarious scene where the Villagers including Anu's father Chase Aravind, One of the sharks team member asks when will aravind reform and grow into a responsible man, Seenu replies that it will be in the shown in the next part hinting a possible sequel. Anu is feared that her father along with his men may chase them and come to Chennai to which the Sharks confidently reply that "Chennai is our Area"