மன்மதன் அம்பு பாடல் வரிகள்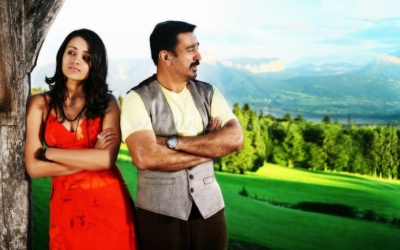 Movie Name
Manmadan Ambu (2010)
Movie Name (in Tamil)
மன்மதன் அம்பு
Starring
Kamal Haasan, R. Madhavan, Trisha Krishnan
Story
Ambujakshi alias "Ambu" (Trisha), a film actress, arrives in Europe to spend the vacations with her friend Deepa (Sangeetha), a divorcee and her two children. While going in a taxi, Ambu recalls an early incident regarding her ex-boyfriend Madanagopal alias Madan (Madhavan), a wealthy entrepreneur: Three years ago, she was shooting for a film with actor Surya in a bright park and Madan was suspicious of her relationship with the actor. While returning, he lets Ambu drive his new car. Madan advised Ambu to stop acting, but Ambu claimed it as her profession which she can't give up, leading to an argument that caused their car to crash near a rock. At the same time they blamed a small white car that just passed by, to be the reason for the crash. Unable to bear any more arguments, Ambu broke her relationship with Madan and walked away.

Madan now suspects that Ambu may be having a relationship with her colleagues in the film industry. To end that, he hires detective Major Raja Mannar (Kamal Haasan) to follow her when she goes on a cruise for vacation in Barcelona. Mannar accepts, as he needs money to pay the hospital bills of his friend Rajan (Ramesh Arvind), who is diagnosed with cancer, and his wife Mallika (Urvashi)takes care of him . Contrary to Madan's suspicions, Ambu is loyal and virtuous; when Mannar reports this, Madan refuses to pay him as his suspicions were unfounded.

Disappointed, Mannar to save his dying friend Rajan fabricates a story and tells Madan that she is having a secret affair during her trip. In the process, he introduces himself as a manager of a security company to Ambu, Deepa and Deepa's children, and becomes close to the group. While getting closer to Ambu, Mannar says to Madan that Ambu is good but the other guy is bad, but Madan does not want to hear that and eventually breaks up with Ambu. In the background, Madan's mother (Usha Uthup)who never liked Ambu calls her brother to inform that Madan has broken up with Ambu and that they should get his daughter (Oviya) married to Madan as agreed in the past. While recollecting his past as an Army officer to Ambu, Mannar reveals that he lost his wife three years ago in a car accident. Ambujakshi realises to her horror that the accident was caused by her during the argument with Madan. Both of them decide to confront each other with the truth, but Ambu misunderstands Kurup (Kunchan) as Madhan's detective and slaps him and tells that she loves Mannar. Meanwhile, Rajan should undergo an operation immediately after the chemotherapy to keep him alive. To make things worse Madan announces that he will visit them in person at Venice. Ultimately, Mannar and Deepa (who now knows that Mannar was the actual spy that Madhan sent) stage a plan with the help of Kurup to deceive Madan for the final break-up with Ambu.

Madan arrives at the place and various mix-ups and misunderstandings take place among the characters. Finally, Madan realises that Ambu has fallen in love with Mannar and accepts it with a heavy heart. At the same time, Rajan recovers from cancer. The film ends as everyone returns to India on the cruise, with Madan and Deepa starting a relationship.